1840 – Churchyard extension
The churchyard of St Nicholas was initially just the area to the north of the church; ruins had been struck during grave digging in 1793, although it is not known if this was structural or loose stone. In 1840, the Earl of Clarendon gave an 'L' shaped area of the Abbey Fields land westwards then southwards from the church to extend the churchyard and as soon as digging began in July loose remnants of the Abbey stonework were discovered. It was decided to clear the area to a depth of 9ft to ensure future grave digging would be trouble free, and this led to a full-scale archaeological excavation during which human remains, foundations of a large octagonal building, Norman foundation stones and sepulchral slabs (one of which has a likely date of origin between 1171 and 1363, and now covers the grave of the Poole family) were discovered. With the site cleared, refilled and levelled, the first burial, that of Mary White, took place in 1842.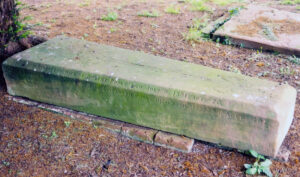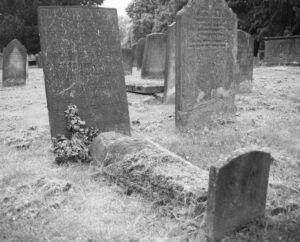 What are believed to be two of the sepulchral slabs discovered in 1840 are re-used on these graves of the Poole family, first used in 1851, (left), and of Abel Miles (died in 1851).
For a full account of these excavations, see  Victorian Kenilworth & its People and The Abbey Fields
Next  or return to  Archaeology Home Page