Kenilworth's 'Lost' Wartime Carnivals
(Added on 6th April 2016)
It is often said that Kenilworth's Carnival was suspended for the war years, but that is not strictly true.
The Carnival originated out of earlier fund raising events for the local hospital, Warneford in Leamington, and 1926 is considered to be the first 'Carnival'. Each winter the fund raising committee would discuss the way in which funds would be raised that year and a procession was not always a foregone conclusion, although it did happen every year.
Despite the ever worsening crisis across Europe, the Carnival in 1939, held in June due to the forthcoming 'Kenilworth Pageant', went ahead as planned. It should be mentioned that the Carnival was not restricted to a parade on one day and a funfair as it is now, but was a week-long series of events, and often fund-raising occasions were held at other times of the year. 1939's Carnival began a week before the procession with a KUDC v Carnival Committee cricket match, an open-air boxing demonstration and competition, Horse and Pony trials held at 'Thickthorn', and a swimming gala at the pool.
Despite war being declared in September 1939, in early 1940 plans were being made for the year's fundraising events, and by and large, remarkably, a full programme was once more planned, however in late April it was decided that the Carnival would go ahead but without a procession, and despite this decision a Carnival Queen was subsequently chosen, Rosalind Booden. Despite the worsening situation across Europe, even as the evacuation at Dunkirk was underway, a whist drive in aid of Carnival funds was held at the Abbey Hotel. Six days after France surrendered, and two days before the week-long programme of events was due to start, the decision was made to postpone the events. Instead, house to house collections were made, and the official Coronation of Rosalind Booden took place on 3rd August at an event at the Abbey Hotel; 15 weeks later the war arrived in Kenilworth with the devastating explosion at Abbey End. Just how much was raised by the "Kenilworth war-time Hospital Carnival" as the Leamington Courier called it, has yet to be discovered.
1941-44 saw many war-time fund raising events in Kenilworth, as of course was the case countrywide, including 'Spitfire Week', 'Merchant Navy Comfort Fund', 'Salute the Soldier' and others, but in 1944, a month after D-Day, thoughts were once more returning to fund-raising for Warneford Hospital and its much needed refurbishment, and so the "Warneford Hospital Carnival Week", as quoted from the local press, returned with the same organisers (as far as possible) and same Committee Chairman, as the earlier Carnivals. With allied forces, including of course many hundreds from Kenilworth, fighting their way eastwards across Europe, it was not the time to commandeer vehicles (if they could be found) for the construction of floats (if materials were at hand), nor for hundreds (as was always the case) to make and dress up in fancy costumes and walk through the town, and so the Queen Celia Reeves and her Maids (in outfits probably loaned by the Talisman Theatre) alone were carried through town on the solitary float to attract customers to the Abbey Fields for "all the fun of the fair" including a miniature railway, concerts, some limited fancy dress, dancing and a tennis tournament. The following day a Councillors v Police cricket match and a baseball match were held, and later in the week a swimming gala; it was all very much as the event had been in the pre-war years. This proved to be the last 'Hospital Carnival', Warneford became part of the fledgling NHS and no longer relied on contributions from events.
In 1947 fund raising this way was revived by the British Legion for funds for its own cause, not just continuing but in this particular year very much expanding on the previous events. Ironically, the Carnival was held due the Legion's premises, the Globe Hotel, being destroyed by a landmine; it is possible that without that happening the Carnival would not have been revived, certainly not at the time it was. But despite the change of direction and a completely new set-up the 1947 Carnival is regarded as a continuation of the 'Kenilworth Hospital Carnival'.
According to a variety of Dictionaries, a Carnival does not need a procession and can be simply a festival or festivities, and it is a sad fact that although Rosalind Booden, chosen, and then crowned several months after the decision had been made not to have a procession, is included in the list of Queens, her 'Carnival' is not counted in the 'Official' listings of the modern Carnival organisers; nor is the 1944 Carnival, and nor is its Queen Celia Reeves.
I believe that rather than be overlooked, these two war-time fund raising events should be added to the annals, and be a particularly proud part, of the history of the 'Kenilworth Carnival'.
A full account of Kenilworth's Carnivals up to 1951, is included in Kenilworth People and Places Volume 2
The town's wartime fundraising for various causes can be found in World War 2 Comes to Kenilworth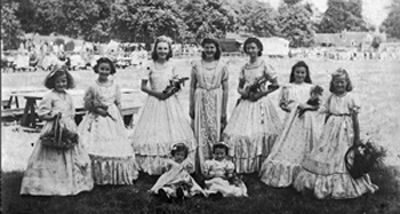 Celia Reeves and her attendants in the Abbey Fields 7th August 1944, with flowers 'borrowed' from the pews of Spring Lane Baptist Church where they had changed. Sideshows and crowds of people can be seen in the background  (photo Courtesy of Jean Heatley)
More Kenilworth Carnival articles on this website:
Origins of Kenilworth Carnival, and its post-war revival, Patsy Wheeler
Kenilworth's Forgotten Carnival Queen
Carnival Programmes 1936 – 1975
Carnival posters and tickets, 1962 -1967
How many carnivals has there been?