Kenilworth's first Olympians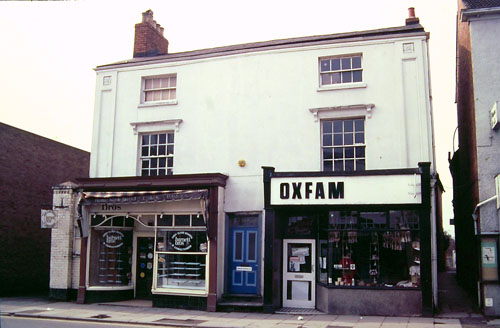 This house, 'The Poplars', stood on the site today occupied by The Coventry building society. It dated from at least 1860. In about 1880 estate agent James Whittendale moved in with his wife and family; already with three sons, three more were to be born at 'The Poplars' including Claud (in 1881) and Raymond (1883).
The Whittendales (sometimes recorded as Whittingdale or Whittindale*) often took part in local amateur dramatics across the road in the Assembly Rooms of The Kings Arms hotel. In fact, the Whittendales put on Kenilworth's first pantomime in the early 1890s. The children were regular performers, Claud and Raymond playing their parts from very young ages.
In 1894, James Whittendale built for himself a new house 'The Bungalow' near the modern castle entrance. Claud Whittendale moved to Hereford where he is recorded in 1901 as an "auctioneer's pupil", and his brother Raymond became a law student in London.
By this time, they had already achieved the lasting fame that is the subject of this article.
The Paris Olympics were a strange ad-hoc affair lasting five months. A number of team sports were participated in by clubs and this included Rugby Union where Great Britain, one of just three competing nations, was represented by Moseley Wanderers, itself drawn from a number of Midlands clubs; the young Whittendale brothers qualified by playing for Aston Old Edwardians.
France had already beaten Germany when the British team, with many of the players having just played for their clubs in the Midlands, made the arduous journey to Paris, arriving a few hours before their match. It was played on a Sunday and having also been soundly beaten by the French, the Moseley Wanderers made their way home again the same evening. France was awarded the gold medal, and Great Britain and Germany both awarded silver by virtue of losing their only match.
Claud was just 19 and Raymond 17, there cannot be many teenage brothers who have won Olympic medals in the same team event. The house in which they were born, and lived in until their teens, was converted into two shops c1920, and was demolished in 1984.
Sadly, neither of the Kenilworth medallists was to have a long life, Claud died on February 10th 1907, and Raymond on April 9th 1915.
* It has since been established that 'Whittindale' is the correct spelling.