The End for Kenilworth's Second Station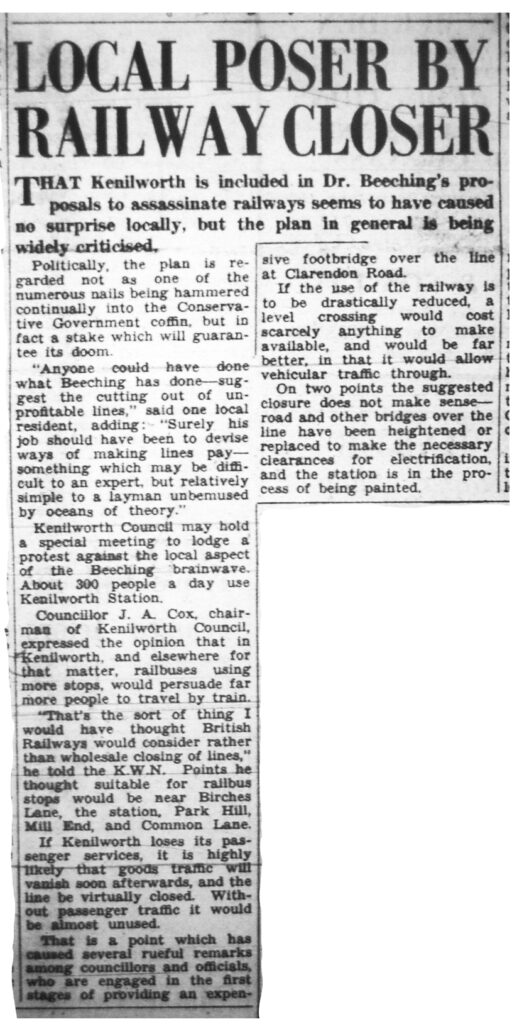 It was no surprise locally that that Dr Richard Beeching's plans to "assassinate the railways", published on 27th March 1963, included Kenilworth Station. It was one of 2,363 stations to close. Beeching is always seen as a villain but it is not so well recognised that he was continuing a process already started by the British Transport Commission who ran Britain's railways after nationalisation. With the nationalised railways losing increasingly vast amounts of money they had closed over 3,000 miles of track but their structure was cumbersome and the legal process was slow, and so the government of the day, and Transport Minister Ernest Marples in particular, created the new position of British Railways Chairman. The outspoken Beeching was installed with instructions to make the railways pay, and laws were changed to speed up the process.
It is easy with 60 years of hindsight to claim this line or that station should have stayed open, but generally Beeching did the only thing he could; it is difficult to find any informed writer who has come up with an alternative option even with 60 years hindsight; it took a while, about a decade, but the slimmed down railway's fortunes turned, passenger numbers increased, infrastructure improved, and of course some stations reopened.
Kenilworth had no open railway station for 53 years, the building remained for almost 20 years, but crucially did keep its railway line. 
The end came for Kenilworth's second station exactly 100 years to the month after the foundations were put down, in the Spring of 1983.
These are taken from my slides; sadly not all have survived as well as they might.
Prior to demolition: