Kenilworth's Forgotten Carnival Queen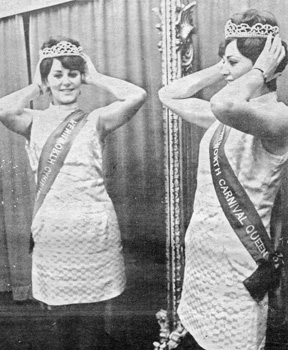 Yvonne Turner, crowned Carnival Queen 1970 (KWN 13th March 1970)
1970 was to be an unusual year in the history of Kenilworth Carnival. First, there was a rule change whereby applicants for the various positions of the Queen and her attendants could be from outside the town – a rule introduced in 1929 after Kenilworth's first chosen Queen in 1928 came from Coventry. But the unique feature was that there were to be two queens.
At the choosing ceremony in March, crowned as Kenilworth's Queen for a year was 20 year-old Yvonne Turner. Originally from Brands Hatch, she had lived in Kenilworth for only 5 months when, encouraged by friends, she decided to enter the competition only at tea-time on the day of the ceremony.
Needless to say she won, was crowned, and chosen as her Maid of Honour was Nanette Gamble who, being from Mere End, was successful due to the new rules. Queen Yvonne was looking forward to her first function at the Working Men's Club the following week.
However, the Kenilworth Weekly News of 10th April 1970 had as its headline story a sensation; "Carnival Queen Yvonne has renounced her title". Questioned by a reporter she would not elaborate, but Carnival Chairman Potts said that she was returning to her former home near London. As Yvonne said in her post-Coronation interview, "Nothing in my life is ever planned".
She was replaced as Queen by her Maid of Honour, 17 year-old Nanette Gamble who had received the second highest votes at the original ceremony. Thus Nanette became the first Queen since Jean Spence in 1928 to live outside Kenilworth, and, wrongly in this author's opinion, Yvonne Turner is forgotten, destined to not be included in the list of Kenilworth's Carnival Queens.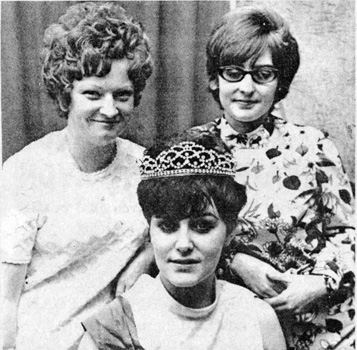 Yvonne Turner, front, and her replacement Nanette Gamble right, and Pat Taylor, Maid of Honour to both Queens. (KWN 13th March 1970)
More Kenilworth Carnival articles on this website:
Origins of Kenilworth Carnival, and its post-war revival, Patsy Wheeler
Kenilworth's 'Lost' Wartime Carnivals
Carnival Programmes 1936 – 1975
Carnival posters and tickets, 1962 -1967
How many carnivals has there been?