Kenilworth's  Railway  Age  (1985)
This book has been out of print for some twenty years, but is still available to borrow from Kenilworth's and other libraries, and occasional second hand copies are available from the publishers.  Its successor, Rails to Kenilworth and Milverton, is still available.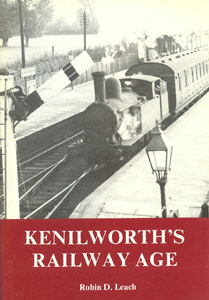 92 A5 pp including 12 pages of illustrations
Published by  the Odibourne Press   www.odibournepress.co.uk
The complete story from early plans to the station's demolition, including industrial usage and some aspects of how the town developed due the railway's arrival.
"Every aspect of the story is told in fascinating detail, and the author describes how the railway's arrival had a profound effect on the development of the town itself. Kenilworth nowadays can only watch the trains go by but its railway memories survive and are brought vividly to life in the pages of this well-documented and illustrated book."
(Warwickshire and Worcestershire Life, March 1986.)