Kenilworth Bricks
Kenilworth has a long history of brick-making, with evidence dating from the Roman period until 1977 with the closure of the Cherry Orchard Brickworks in Whitemoor Road.
Here is a selection of Kenilworth's lettered bricks from the author's collection; detailed histories of Kenilworth brickworks (with at least 7 known sites in the Victorian era alone) can be found in Kenilworth's Railway Age and Victorian Kenilworth & its People.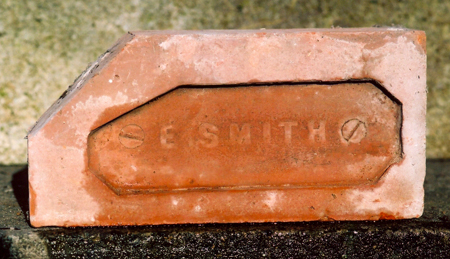 Ed Smith, a Kenilworth builder whose work included the clocktower, had his own sources of materials at a quarry and brickworks, the latter being in Upper Spring Lane where the Tennis Club now is. Often overlooked in the the annals of Kenilworth brickmaking, Smith was the first to use mechanisation. This brick was found in the rubble of Kenilworth Boy's College, Priory Road, built c1894, demolished 1984.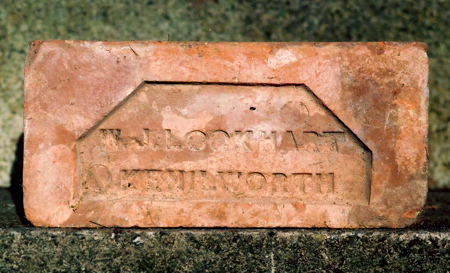 In the early 1870's, Walter Lockhart took over a small manual brickworks on the southern side of Whitemoor Road and built a large works complete with railway siding. He sold the works c1880 and so buildings that include his bricks can be dated with reasonable confidence to that decade. This particular sample came from a two-storey house in the middle of Street's fellmongery at Mill End, built for the works manager.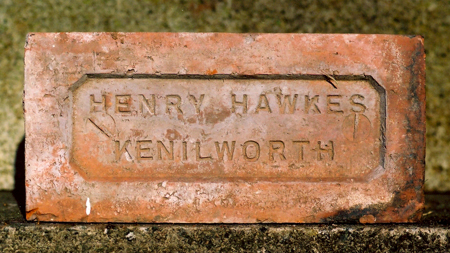 Lockhart's works became operated by the landowner, the Hawkes family, Henry being the one to have his name associated with the company. The works closed in 1957.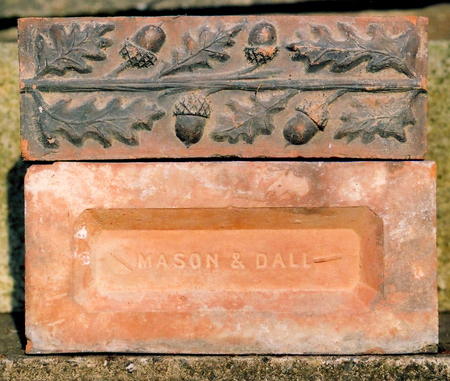 Mason & Dall were the builders, in 1888, and first operators of what became the Cherry Orchard Brickworks on the northern side of Whitemoor Road on the site of a Market Garden. In their short stay they produced what are likely to be Kenilworth's most decorative bricks, the above example being rescued from the site gatehouse when demolished.
 .
The Cherry Orchard brickworks operated under variations of its name with different owners and produced a range of moulded products including these two. Many similar examples can be seen in houses across the town; the works closed in 1977.