The Engine, The Wyandotte and Four Boddingtons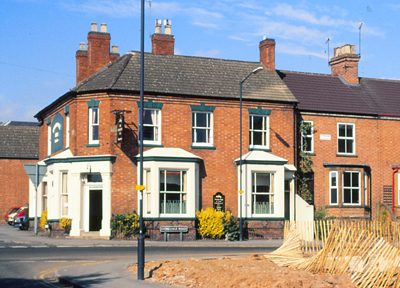 The Wyandotte, built 1867-8, photographed 1988
The origins of Kenilworth pub names is often discussed, and perhaps none more so than 'The Wyandotte' with all manner of claims in circulation. To settle the argument once and for all, I reproduce here the article I submitted to Kenilworth History, 2003-2004, and include the list of sources for anyone who wishes to investigate for themselves.
In my thirty years in Kenilworth, I have often come across local tales where the teller leaves more questions than answers, where the relayed facts leave one curious to know more. One of these stories has always intrigued me; The Wyandotte, with its Red Indian in full headdress on its sign board, was apparently named after the town in Michigan where the licensees' son settled. This brief outline almost begged an investigation, but it was only last year, and my belated connection to the internet, that I began my exploration for more details. This is the result.
At the time of his son John's baptism on August 1st 1813, Edward Boddington was a 31 year old comb-maker and he had his own business at Mill End by the mid 1830's. In 1841, then 60 years of age, he was employing perhaps four other Mill End residents whose occupations were recorded as comb makers. Although some manufacturers remained successful for a number of years, (for example Webb Turner and Pace of Castle End were still employing 25 individuals at their works ten years later), many comb-workers were finding times hard and in just one month in 1842, no fewer than 14 applied for poor relief, about 12% of the 1841 comb-making workforce. At about this time, despite his advancing years, Edward decided, or by circumstances was forced, upon a career change.
After around 1830, it had become possible to be a beer seller by the purchase of a license for £2, Edward obtained such a license and also became a grocer in the early 1840's. Edward had the only shop at Mill End and so a degree of success looked likely, but could it prove sustainable? Mill End was then a community quite separate from the rest of the town, with its mill, forge and a cluster of cottages but it had also had its struggles – not only had Edward closed his factory, but not many years previously the chemical works across the road had closed. (The well-established Old Blue Mill had given rise to the area being described as Blue Mill End on documents dating back as far as 1813). Within a few years, Edward changed direction again, not quite so drastically this time, by turning his premises into an inn, The Engine. This of course produces the likelihood that The Engine was at one time a comb factory. The inn name was clearly inspired by the nearby railway line, built in 1843 – 44.
The life of his aforementioned son John, took a not surprisingly similar course. He too took up comb-making and was living in New Row at the time of the 1841 census. He too left the trade and set himself up as a grocer, doubtless with his father's help, and in the early 1850's was trading as such at Castle Green, letting rooms to boost his income. Upon his father's death, between 1854 and 1861, John took over The Engine leaving his wife Sarah (nee Clarke, married 2nd August 1836) to continue with the grocery.
John and Sarah are known to have had a son Henry who appears to have died in infancy, and four daughters, Elizabeth, Adele, Mary and Millicent, but it is John and Sarah's other two sons, John jnr. and Alfred, born 1838 and 1843 respectively, with whom the story continues. When his father decided to build another inn closer to town on former garden allotments, it was Alfred who, in 1867 aged just 24, took over at The Engine; elder brother John jnr. had chosen a very different course for his life.
At the age of just 14, in 1852, John jnr. became a machinist apprentice in Birmingham, one assumes that he had taken lodgings somewhere. He also learnt various associated skills and by 1861 referred to himself as an engineer. He moved around the country working but I have as yet been unable to discover in what capacity or where. In 1864 he emigrated to America, one of hundreds that left Kenilworth and its surrounding villages in the 1860's and 1870's; most left simply to find better paid manual work, but it seems John jnr. had a career in mind. His first known job was in the workshops of the Jersey City Locomotive Works, then part of the Erie Railroad. He then worked for a time at Secor's in Jersey City building torpedo boats, but he soon returned to locomotive workshops including those at New York Central Railroad, and the Pittsburgh, Fort Wayne, and Chicago Railroad. He eventually moved on to the Kansas Pacific Railroad and settled in Wyandotte County, Kansas. It was this move that inspired his father to name his aforementioned new pub back in Kenilworth The Wyandotte.
John jnr's. career progressed and he was soon a foreman and became Assistant Master Mechanic in what was by then, through amalgamations, the Union Pacific Railroad. He was at one time a Councillor in Old Wyandotte City, and was described as a "Pioneer resident". He became an American citizen in 1902. He died on 14th March 1922 at the home of his step-daughter in Holmes Street, Kansas and is buried in Woodlawn Cemetery, Kansas. He had married twice, his first wife, who died, was an English girl, his second was a local; one of his grandsons, aptly named Edward, died as recently as 1982, another was named Clarke, his mother's maiden name.
The Wyandotte's customers are likely to have been amongst the better behaved in town as it was situated so close to the County Constabulary Headquarters. Ten years later, John senior sold a plot of land at the rear of The Wyandotte for the fledgling Kenilworth Co-operative which built its store, and later cottages, there.
John Boddington snr. held the license to his new pub into the 1890's, he then being in his 80's. He died in 1904 aged 90, outliving his wife Sarah by 18 years. The Wyandotte holds a place in local history as it is thought to be the last Kenilworth pub to brew its own beer, and I believe also the last to have an "outdoor" for sales of drink to be consumed off the premises. After its construction in 1867 it was to be almost 100 years until another new pub appeared in town, The Gauntlet and The Woodcock appearing in quick succession.
Footnotes:
The Wyandot Indians were a civilised, educated tribe. They arrived in the area in 1843 and negotiated land deals with later settlers, Wyandotte City being laid out in 1857 with three influential Wyandots working in partnership with four settlers. In 1886, the cities of Wyandotte, Armourdale (plotted 1880), and Kansas (plotted 1868) amalgamated to form a new Kansas City.
The English settlers added an extra "t" to Wyandot, and the French an "e" to give the place name spelling. We can therefore conclude that The Wyandotte in Kenilworth is named after the place, not the tribe.
Wyandot legend has it that their people were descended from the earliest dwellers on "The Great Island" (North America) which was formed on the back of a turtle. Wyandot can thus be translated as "People of the Island" or "Turtle People".
I must record my thanks to Georgia Slaughter, the Kansas Collection Librarian, for all the information concerning John Boddington in America, detailed history of the Wyandot native indians and of Wyandotte itself. In return, details of John Boddington's family and early life in Kenilworth, and two pictures of The Wyandotte, have been added to the Kansas Collection.
Two Boddington families are listed in the Kansas City phone book.
Addendum: To dispel another theory, I should have included that the Wyandotte fowl are not known to have existed until the decade after the inn was so-named, Wikipedia being the easiest source to check.
Sources:-
Rob Steward, The Inns and Roads of Kenilworth, Odibourne Press 2000
Various directories and Census returns.
Railway plans CR 111/193
St. Nicholas Churchyard Memorials, KHAS 1982
Kansas City Kansan, several editions.
History of the State of Kansas, A.T.Andreas, 1883.
Numerous editions of The Kenilworth Advertiser