Abbey Fields Swimming Pool, Photographic survey, 1960-2023
(All images by the author or from his archives, except those where credit is given)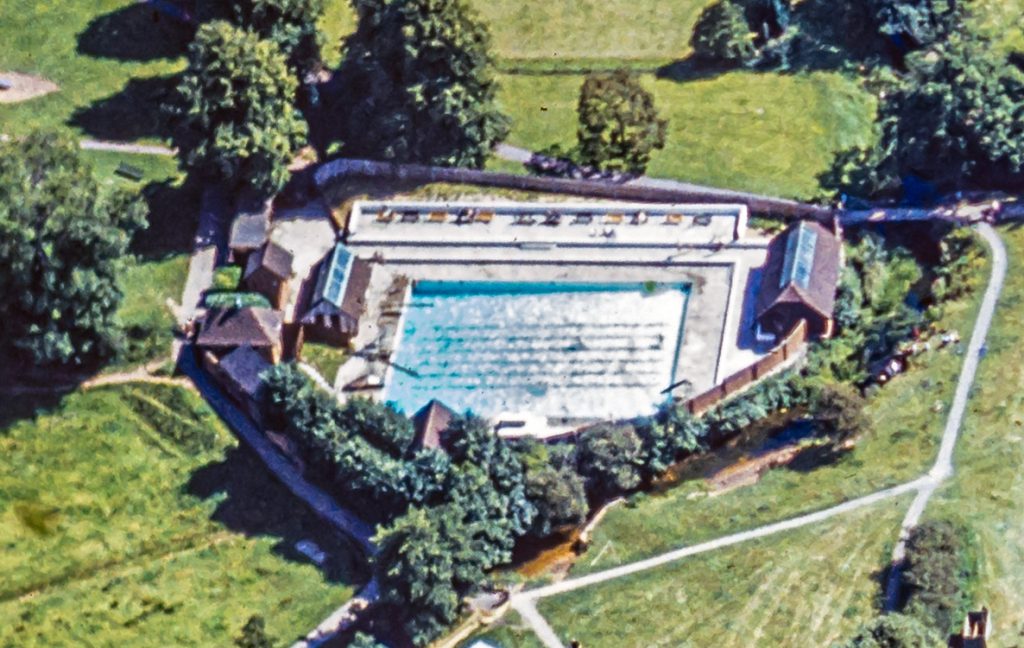 This remarkable photograph was taken c1961 by Kenilworth flying, radio and photography enthusiast John Webster, and is reproduced here courtesy of his son Steve.
It shows the pool in its 1935 'lido' stage but with a couple of additional buildings (near to the original 1920s conveniences) at the play area end, that includes a flat-roof refreshment kiosk.
Note also how the men's changing room  built on the top terrace overhangs the brook; the platform sits on top of stonework which is (probably) reconstructed medieval, likely to be part of a bridge over the brook.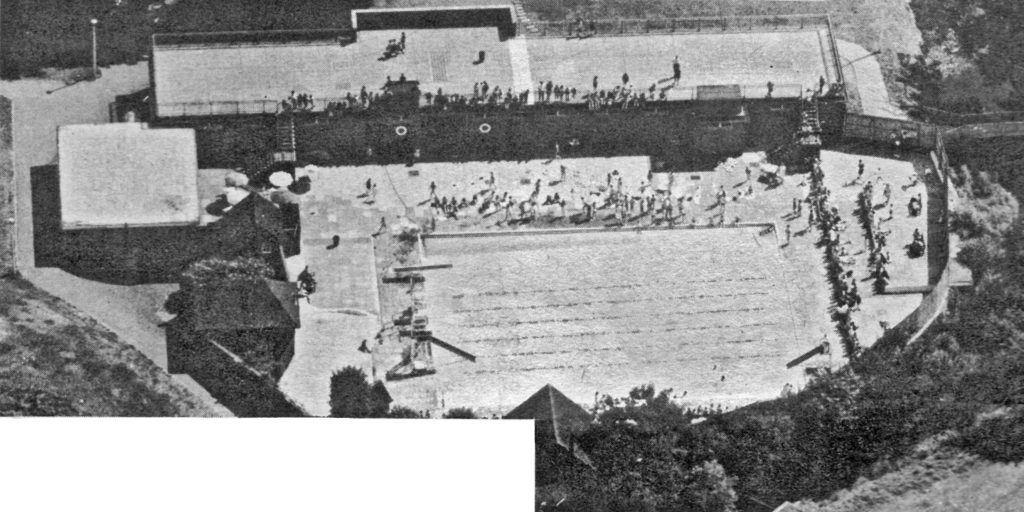 A similar view taken from the Kenilworth Weekly News in 1971, also possibly by John Webster who did some photography for the paper (or at least from his aircraft).  It shows the new changing rooms built in 1965, and the new flat-roofed refreshment kiosk at the play area end. At the brook end with the changing rooms gone, the boundary fence now passes over the top terrace leaving a section of it inaccessible. The soon to replaced public conveniences, bottom left, can be seen in both the above images.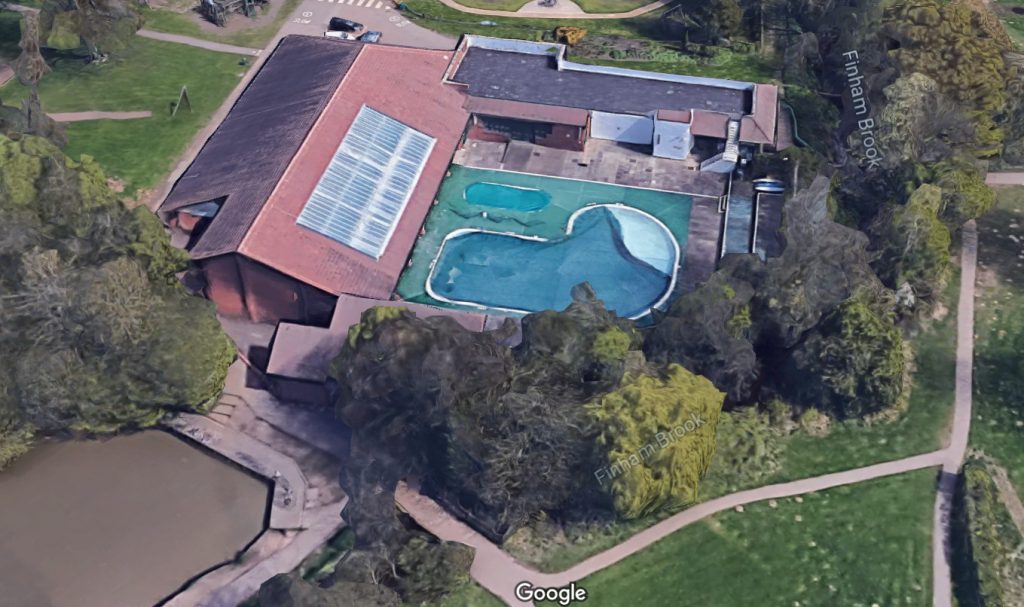 The similar view c2022, courtesy of Google, showing the outline of the lido enclosing two smaller pools, and the indoor pool of 1985. The 1935 terrace on which sat the men's changing room can be seen alongside the now very overgrown brook banks.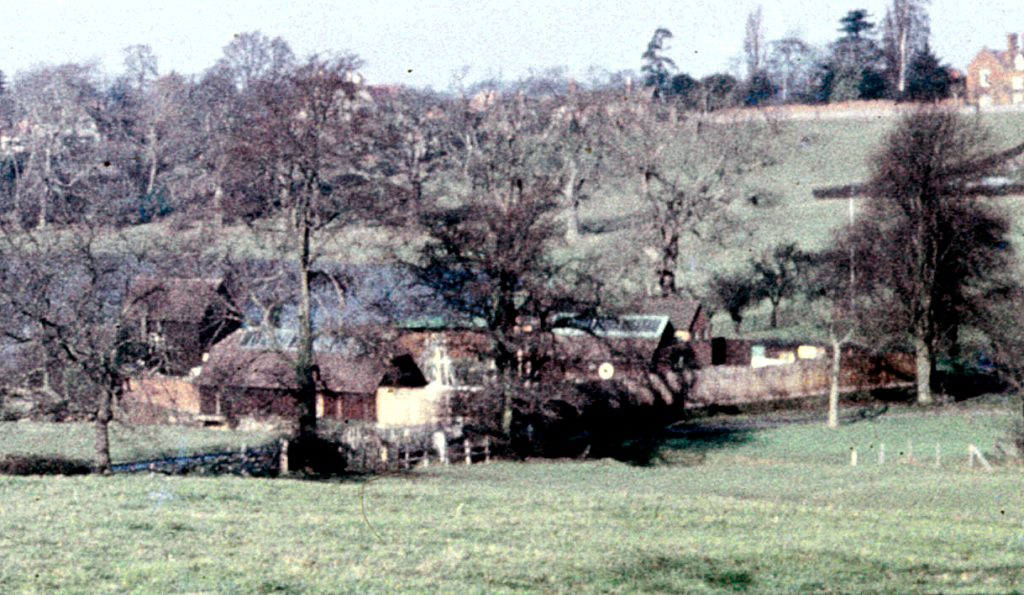 This is a probably late 1950s view courtesy of the Hubbard family, whose livestock grazed the Abbey Fields; it is a small part of a colour slide.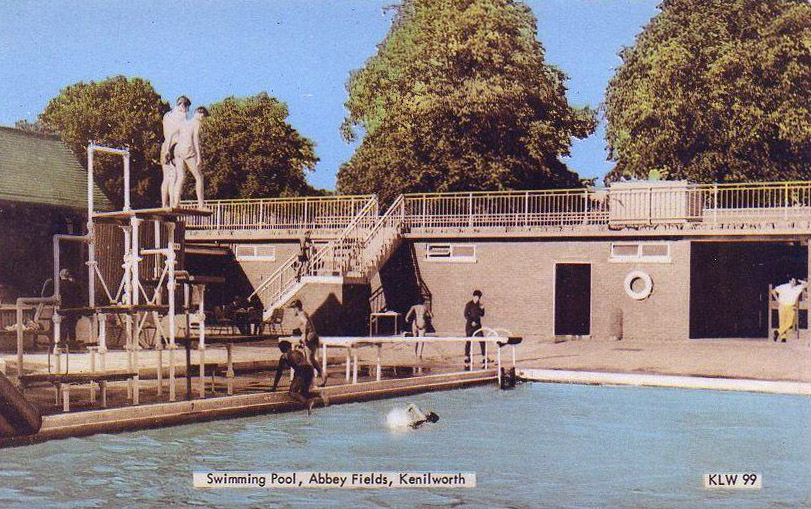 A colourised post card issued in the 1960s soon after the new changing rooms on the bowling green side had been built. The pool area footprint had been greatly enlarged eastwards to facilitate the expansion.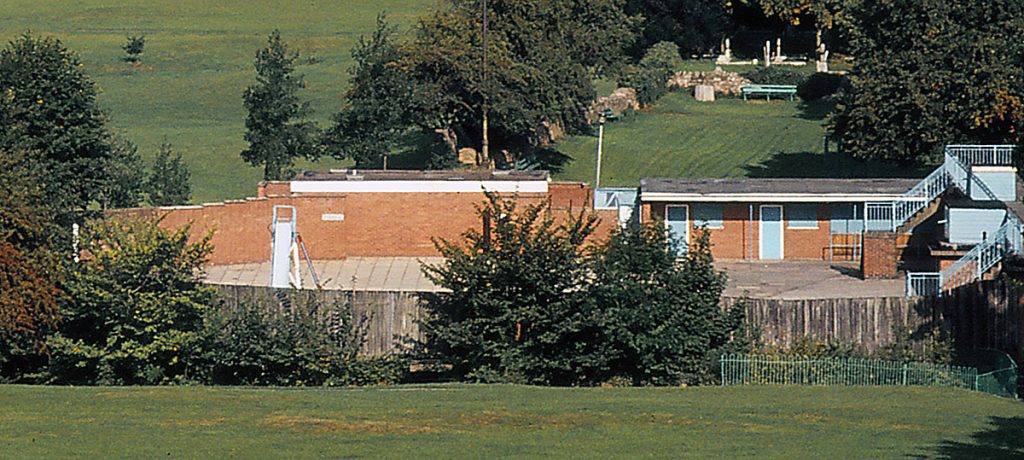 A summer 1984 view showing, to the left, the new conveniences built in 1971 that had access from both the pool and park, but presumably without a through route!  To the right is the building housing offices and refreshment facilities, again accessible from both the pool and park side. Although one slide remains, the diving boards have gone.