Kenilworth – a top music venue!
(KWN Publication date uncertain, about August 2007)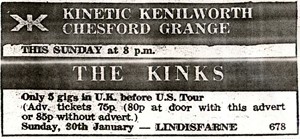 With today's top rock bands selling out Wembley Stadium, the local Ricoh Arena, and the smaller 13,000 capacity NEC – and with £40 tickets being common – it is astonishing to look back about 35 years to when an Odeon Cinema was considered a large venue and Kenilworth, yes Kenilworth, hosted the top bands every week, for just 75p entrance!   
With minimal television airtime, and only a few making promotional films, bands needed to perform live for public exposure, and 100, or even 150, gigs a year was not unusual. Cinemas, clubs, town halls, ballrooms and dancehalls were popular venues; the last two were still to fade away from their late 50s resurgence due to Rock'n'roll. One such venue was Chesford Grange.
The Grange was built c1901 by Birmingham lamp manufacturer Joseph Hinks but it was not until just before WW2 when it was taken over by the Hames family, moving from Kenilworth Castle Gatehouse, that part of it was used for the first time as a hotel. After wartime requisitioning, the Grange reverted to a hotel by 1956. The ballroom itself had started life as in indoor tennis court with a glass roof. At one end there was a stage, and at the other a balcony for a projector so the room could be used as a cinema. It was also used as a restaurant.
In the 1960s, it was a popular venue for dances; in 1964, for example there was a Ball on Christmas Eve, a Dance on Boxing Day and a New Year's Eve Ball with Ronnie Hancox and his band. A month later, another event had music provided by Syd Lawrence. Geoff Gough and his 12-piece band were regulars, playing Glen Miller and similar music. By about 1967/8, the dances were still regular but a Mr Ekersley in conjunction with the Hotel owner, saw the opportunity to provide a variety of entertainment for older teenagers, and the venue developed into three distinct areas.    
Downstairs in the old cellars was The Twist Den with its own bar. Often packed to a dangerous degree, it was here that local bands would play, sometimes with a band set up at each end of the room. Psychedelic lights were projected onto the wall, ultra violet light picked out anything white. Regular performers included Kenilworth's own Cimmerons, and Leamington's Johnny Clifford and the Presidents. A visiting band was The Andicaps from Shard End, a group that Jeff Lynne later of ELO fame once fronted. Upstairs in part of the hotel was The Lilac Room, again with its own bar. This started life with a jukebox, and two bouncers, Geoff and Brian, on the door. Later, DJ's were hired and it became a weekly disco.   
Popular as these events were, it was the ballroom that was to provide what must be the most high profile entertainment in Kenilworth's history. Over a period lasting at least until 1972, many of the top bands of the day performed, including some whose fame was fleeting but others who have subsequently achieved legendary status. Adverts in the Kenilworth Weekly News show that in 1972 bands played every Sunday night with advance tickets costing just 75p, sometimes less. Unfortunately, the editor of the day did not see fit write reviews.       
Although a full list or artists is still being compiled, the following gives an indication as to how major a venue Chesford became:     
Bill Haley and the Comets; Gerry and the Pacemakers; Dave Clark Five; Freddie and the Dreamers; Swinging Blue Jeans; The Crazy World of Arthur Brown; Motown groups including The Shirelles; James Brown; The Equals; Marsha Hunt; Jimmy Ruffin; The Hollies; Mungo Jerry; Mott The Hoople; Ginger Baker; Rory Gallagher; Trapeze; Heads Hands and Feet; The Faces(with Rod Stewart); The Who and The Move. In a particularly good spell between 23rd January and 19th March 1972, bands appearing included The Kinks, Lindisfarne, Slade, Status Quo and Hawkwind. By then it was known as The Kinetic Kenilworth; the use of its logo, back-to-back letter Ks, would have appealed to The Kinks, as they had made judicious use of the letter K in their early years. To emphasise how some bands continually toured, Status Quo returned on May 7th, pre-bought tickets costing just 50p. Progressive "underground" bands, (so named due to the venues they played), forerunners of what today would be termed "heavy metal", played in the Kinetic Cellar, probably the old Twist Den. Bands here included Groundhogs and Van der Graaf Generator, and entrance was as little as 40p.     
Chesford Grange was not, however, the only Kenilworth music venue, Gerry and the Pacemakers are one band known to have played at The Abbey Hotel.
As yet, it is not known for certain when the life of Kinetic Kenilworth came to an end, but it would appear to have been over by 1973, but a weekly disco, Blaises, continued for some years. How envious today's teenagers reading this must be.
(Some Historical information taken from "Tea at the Castle" by Philip Hames, Published by The Odibourne Press, 1992)
The history of Chesford Grange can be found in  Kenilworth People & Places, Volume 1