Victorian Kenilworth and its People   (2006)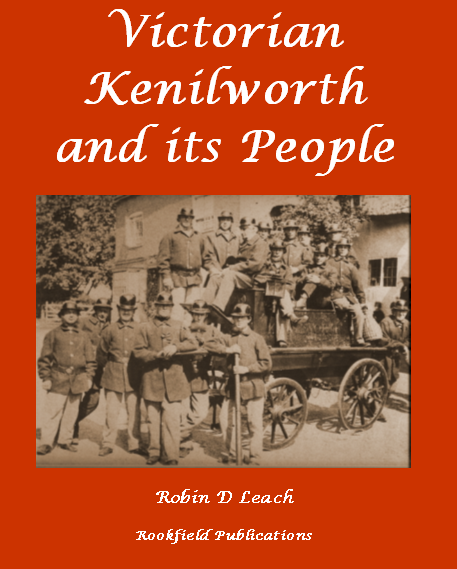 199 A4 pages, over 100 illustrations and maps, extensively indexed. Now reduced to £8
"Robin Leach is to be congratulated on his book, Victorian Kenilworth and its People, now safely launched. Well worth the wait, this attractive and authoritative volume, the product of years of close research, is a splendid record of our town's development, packed with information on families and buildings, enjoyable anecdotes and supporting illustrations.
No bookshelf should be without it"

(Kenilworth History and Archaeology Society newsletter, June 2006)
A Preview by the Author:
            "What a delicious neighbourhood, what an attractive place of resort for hard worked people to spend their little leisure in. What a pleasant retreat for smoke-dried visitors from Birmingham, from narrow streeted Coventry. How cheering for the people of torpid Warwick. How refreshing for the sweltering denizens of grilling, glaring, stuccoed Leamington. This is a bright picture truly, but alas! It has another and darker side. With all its delights, Kenilworth is a place of smells – odours of the most overpowering description – odours not of Eden nor yet of Araby the blest, but ill smells, vile odours, the result of emanations from filthy pigstyes, reeking sewers, and stagnant cesspools…which convert Kenilworth from what it ought to be, a delectable abode, into a stench stricken wilderness."
When Queen Victoria came to the throne, Kenilworth had a straggling farming-based community of 3,000 with its only notable industry – the manufacture of horn-combs – in decline. One-in-seven of its population were officially regarded as paupers, and one-in-ten houses was empty. Water was fetched from wells or springs, waste was disposed of by "nightmen" or via cess-pools and ditches, the unlit roads were rutted and made of loose gravel. By the time of her death 63 years later, Kenilworth had become a small industrial town, with many smoking chimneys, fresh water supplied to many houses, a sewer system to dispose of waste, and a park for recreation.
Victorian Kenilworth and its People records the changes, the people that made it happen and the lives of some of the townsfolk, both good and bad, – and a great deal more….
Burgeoning industry and its proprietors, particularly the brickworks, tannery, and the Mill End fellmongers, played a major part in the town's affairs – and horrific industrial accidents were regular occurrences. Philanthropists were never far away – one started a Working Men's Club out of his own pocket – but the lower classes could also look after their own affairs; a Co-operative was started soon after a farm labourers uprising, the two groups used the same pub for their early meetings.
After a series of rick fires at farms, a volunteer fire brigade was formed, and its stories are almost a book in itself; the public jumping-sheet demonstrations (with the inevitable and obvious accident!), the brigade managing to set fire to and destroy its own hoses at the fire station, and the occasion when there were no horses to pull the engine to Chase Farm – there was only one solution…..
Amusing tales, but their fire-fighting qualities are there to be read, including at one major town centre conflagration. The building involved still stands, as does the first fire-station. For maximum output, the manual-pump engine needed a team of 40 to operate it.
Tragedy and intrigue was never far away – a mother and three of her young children falling into a deep water-filled pit was national news – was it an accident?; a riot due to a butcher having a new lady "assistant"; a murder; the tannery and its links to the closure of a bank, and the ne'er-do-well sued by the mother of his child for breach of promise – "…unfortunately, the child is still living."
There were extreme highs and lows. Queen Victoria paid a visit, and in 1887 her Golden Jubilee was celebrated in style, but there was such depression in the 1880's that one tenth of the population left the town – many emigrated, their passage paid by donations.
Kenilworth's sportsman often came to the fore. The long-established town cricket club had an embarrassing defeat at Edgbaston, but also a one-armed batsman who once scored 25 runs from a single ball. The origins of Kenilworth Town Football Club and the early years of the Golf Club were notable events, as were the town's own horse-racing meetings. There was also a Kenilworth-born owner of a record-breaking Derby winner.
Victorian Kenilworth and its People  tells in full for the first time the complicated purchase of the Abbey Fields, why they were bought and by whom, how the first attempt was deemed illegal, and why once in the town's hands the public were banned from using them. Read also about the men that ran the town, made the decisions, and exchanged insults at meetings. During the early days of Queen Victoria's reign, the town was run by the Vestry meetings of leading rate-payers; this evolved through a Local Board of Health into the Urban District Council and the involvement for the first time of political parties – and one man served on all three.
The closing years of the Victorian era saw the dawn of motoring, and Kenilworth's first motoring fatality is recorded, as are a number of motoring offences – the drivers always claiming innocence. The same years saw the wars in the Sudan and Africa and Kenilworth's young men participated, but why did the forces Commander in Chief send a personal letter to a young Kenilworth boy?
Running through the tale are regular characters whose own lives are documented, at times over 40 or more years. For example, the teenager who came from Balsall and became the town's leading citizen and dies in his 70s in the closing pages; or the Scottish policeman, a giant of a man who once faced a rabble of over 200 people alone before managing to arrest its leader, and was attacked and nearly killed by a gang of six poachers, but still managed to fell two of the gang, and their dog.
Despite the difficulties, Kenilworth saw itself as a progressive town that would one day rival Leamington; an Institute was opened, a newspaper started, a gas-works eventually enabled dark streets to be a thing of the past – and there was a long-time promise of swimming baths. New housing was built for the wealthy and not so wealthy, as were new roads.
Victorian Kenilworth and its People  has detailed accounts of a wealth of subjects; the farms and foot and mouth disease; market gardens and their extraordinary and varied output; regular flooding at Mill End; the Convalescent Home that spent twice as much on wine and spirits as it did on medicines; the first Building Societies; archaeological excavations; postal services; regular handouts of bread and soup to the poor; the building of St Johns school and church; youths bathing in the Abbey Fields "..in their costume of nature.."; ancient relics beneath a pub; the town's own entertainment troupe; the first working men's and political clubs; Kenilworth's Zoo; &c., &c.,
In its pages there is little to read of the idyllic life lived by "…the upper ten per cent…", but of hardships and large scale unemployment amongst the working classes; not of delightful and picturesque thatched cottages, but of a family of 9 sharing one 12ft square bedroom in squalid conditions; not of ladies twirling their parasols amongst the castle ruins, but why it was that when a company wished to supply fresh water to all for 2d a week, the leading local doctor was against it – despite having to attend to typhoid cases on a regular basis.
As it is drawn almost entirely from contemporary sources, such as newspapers, legal documents, census returns and local council minutes, Victorian Kenilworth and its People  is virtually written by Kenilworth's Victorians themselves. This is a Kenilworth that you will not have read about before.