the website of
Robin D Leach  and  Rookfield  Publications 
For all enquiries and book orders:
Rookfieldpublications@victoriankenilworth.co.uk
This website was originally set up to promote my fourth, and first self-published, book "Victorian Kenilworth and its People"; its expansion continues with further articles and items of historical interest. It is now relaunched in its fourth format (April 2022), particular thanks to Sam Leach who has made this possible.
Exploring the menus on the left will reveal details of all my books, and a great many articles of interest about Kenilworth.

New features not on the previous website include:
NEWLY ADDED, 8th Nov 2023        Town Guide Photographs, 1920s to 1987
NEWLY ADDED, 22nd October 2023           Abbey Fields Swimming Pool, a photographic survey, 1960-2023
NEWLY ADDED, 5th October 2023           Abbey Fields 2023 excavations summary
NEWLY ADDED, 23rd July 2023           Kenilworth Town Maps
NEWLY ADDED, March 2023       New Railway History Articles
NEWLY ADDED, 20th February 2023    Abbey Fields Archaeology
NEWLY ADDED, 27th February 2023      2023 Abbey Fields Cycling Documents
NEWLY ADDED, 1st March 2023          Abbey Fields, 1947
Vibes Lockdown Articles – The Kenilworth history articles I posted on Kenilworth Vibes during the Coronavirus lockdown.
Archives & Photographs – I am starting to upload some of my collection of photographs, newspaper articles etc; this will be an ongoing process.
Abbey Fields Cycle Path – The continuous attempts to get a cycle path through the Abbey Fields is investigated, with links to plans and documents included. I add my own thoughts and suggested scheme. It is regularly updated when there are developments.
Bye-laws – The Abbey Fields byelaws (also relevant to other parks) have been added to that section.
More Kenilworth History Links – I have added more to my links section, notably links to Kenilworth photograph collections and the KHAS Then & Now series.
Carnival – A great re-arrangement has taken place, and more added to existing pages.
 Site Search box – top left corner, search the entire site with a single word or phrase
Throughout the website, all text in green is a link to another page or site.


I have a second website which has also been updated:
www.kenilworth-ww2.co.uk/
Newly published, March 2022, available at Kenilworth Books: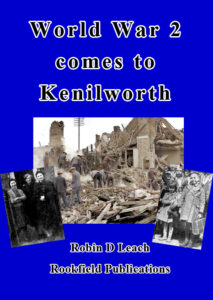 208 pages, 170 illustrations, £14.95
REDUCED PRICES ON ALL OTHER BOOKS 
All books are only available at Kenilworth Books in Talisman Square, or through this website.
I have a simple philosophy in that the history of Kenilworth belongs to us all, not just to the historians, and so an application to use information, or photographs, from this website or from my books is certain to be received favourably, but the courtesy of 'asking first' is requested, as is the recording of the source upon re-publication.