Kenilworth Carnival on Film
Although there are many clips of modern Kenilworth Carnivals available online, there are a precious view of Vintage parades. Here I have gathered links to three.
Film 1, 1951 and ?    Length – 4 minutes.
Watch the film here:      Carnival, 1951 and ?
This film is actually clips of two carnivals. The first up to 2 mins 26 seconds, is of 1951 with Maureen Postins as Queen. It is taken from next to the clock tower (which can be glimpsed in a few shots) and has war-damaged buildings in the background.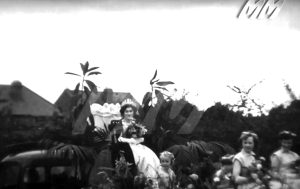 The second is filmed at the St Nicholas Avenue / Oaks Road junction with, in the background to the left, houses on only one side of Queens Road. Bricks can be seen piled at the side of the road ahead of further building. It has not yet proved possible to identify the Queen and thus the year; do you recognise her?
Film 2,   1956.  Length  1 minute 59 seconds
Watch the film here:     1956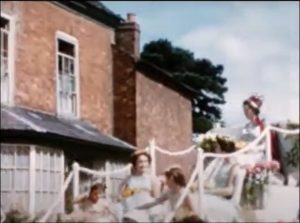 Filmed at the top of Abbey End with the parade taking the turn into Abbey Hill, and also in High Street. 18 year-old Pamela Rhodes is the Queen.
Film 3,   1975.   Length 2 mins 11 seconds.
Watch the film here:     1975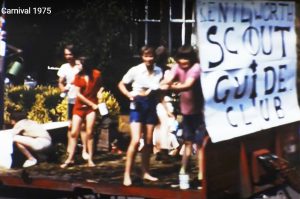 This clip is taken from the grass bank on the edge of the Abbey Fields on Rosemary Hill. With today's Health and safety requirements, it is a throwback to a different era seeing entrants with their legs hanging over the sides of the lorries!
A link to a YouTube search of all  Kenilworth Carnivals
More Kenilworth Carnival articles on this website:
Kenilworth's 'Lost' Wartime Carnivals
Kenilworth's Forgotten Carnival Queen
Carnival Programmes 1936 – 1975
Carnival posters and tickets, 1962 -1967
How many carnivals has there been?