2023 Cycling Documents
Making progress with their plans, a paper is due to go to Warwick District Council's Cabinet on 8th March 2023 regarding a proposed route through Abbey Fields and the consultation process. The documents were posted online on 27th February:
Agenda Item No 14, Cabinet Committee, 8 March 2023.  Title:     Abbey Fields Cycle Route Proposals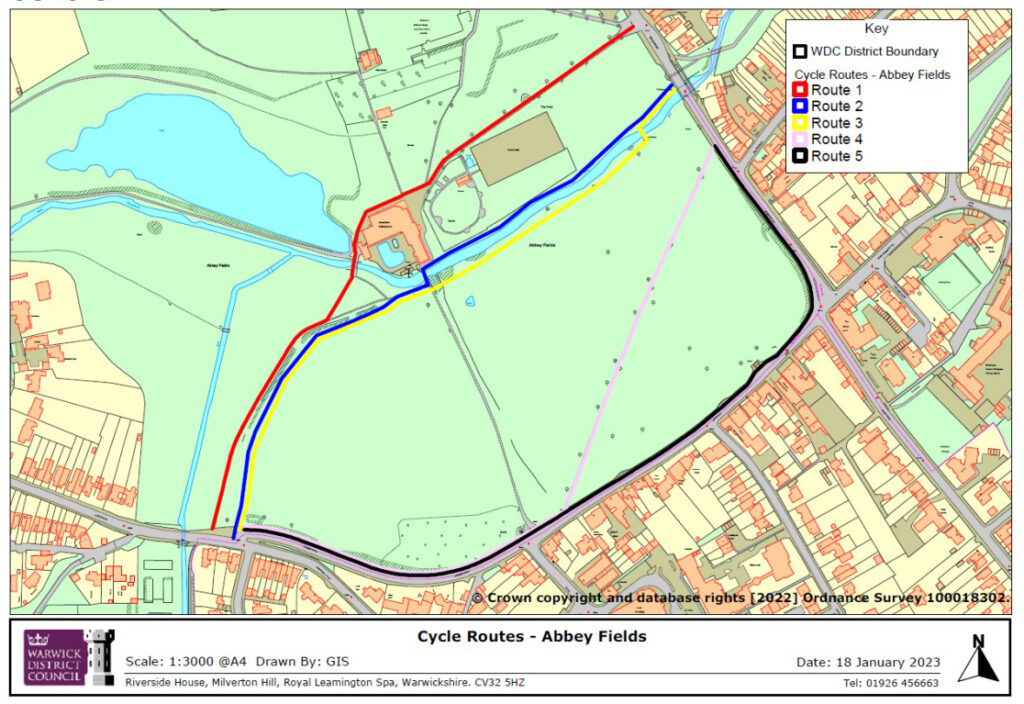 The Proposals include the above map, showing 5 routes.
Plans of Abbey Fields:    Appendix A
History of Consultations:       Appendix B
Consideration of Routes:        Appendix C
Summary of Routes:       Appendix D
Extract from Abbey Fields Consultation Report "Fields for our Future":       Appendix E
EQUALITY IMPACT ASSESSMENT (EIA):       Appendix F
In summary, WDC have opted to go for creating a cycle path along existing pathways, widening them where necessary, against the wishes of many including Kenilworth Town Council, who prefer a separate path. The two main reasons appear to be that a new pathway would intrude into the Abbey's surroundings and archaeology, and it is the cheapest.
Meeting update:
The Cabinet unanimously decided to press ahead with the scheme; the next stage includes a 6 week public consultaion:     Cabinet Meeting news report
Return to  Cycle Path Proposals, 2022
Return to Abbey Fields Cycling Home Page:    Abbey Fields Cycle Path