A Portrait of Kenilworth in Street-Names
Two editions of this book were written and published by Dr Geoff Hilton, in 2000 and 2003, both quickly sold out and a third was always contemplated.
However, Geoff left town with the task unfulfilled and he asked if I wished to take over the project. It was my own published work revealing the stories behind many of Kenilworth's road developments that led to the approach.
The result is this third, fully updated and revised edition, involving a re-examination of each entry to include much newly-uncovered information, and of course including more recently built roads.
Also, street name-plates are photographically examined, from standard modern plates to the KUDC era, the oldest (past 125 years) to the curious (including the spectacular early post-war concrete structures), and even one simply painted on a wall!
Extensive referencing entices the reader to discover more.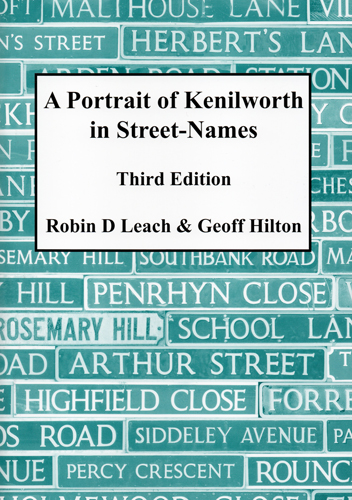 72 A5 pages, fully illustrated, £5