The Station Opens; 30th April 2018…..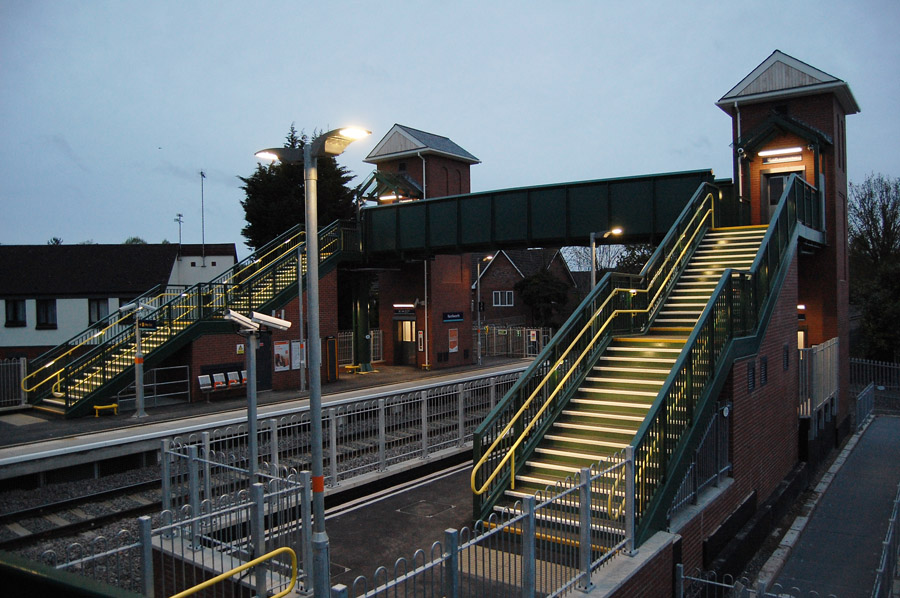 It was an early start; the first train was due at 6.16 am, the first photographs are around sunrise at 5.30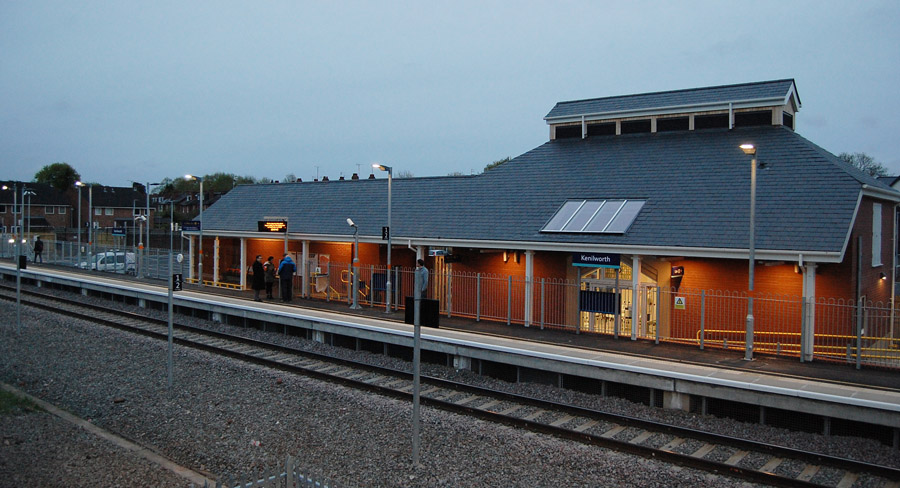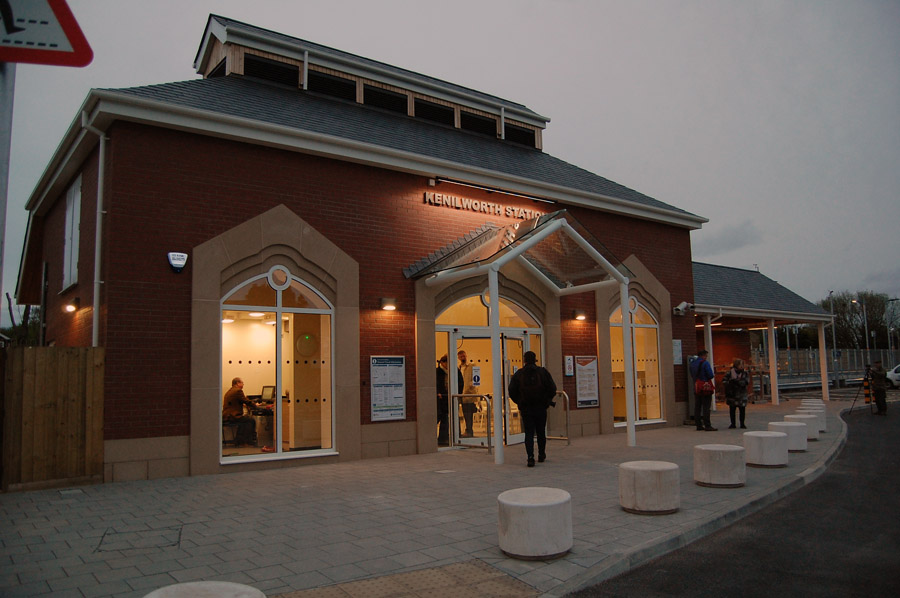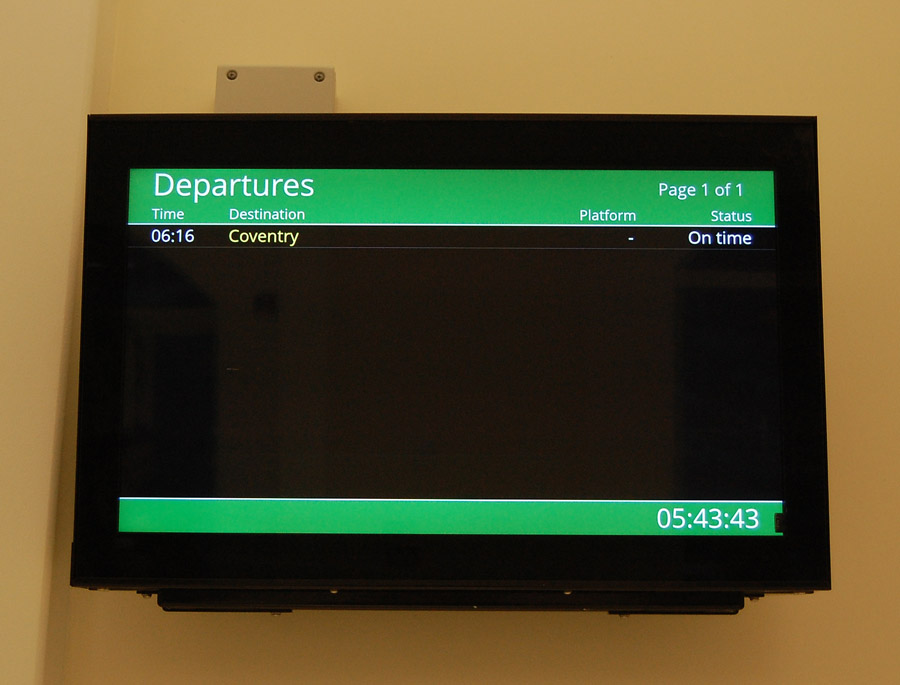 Only one train on the departure board……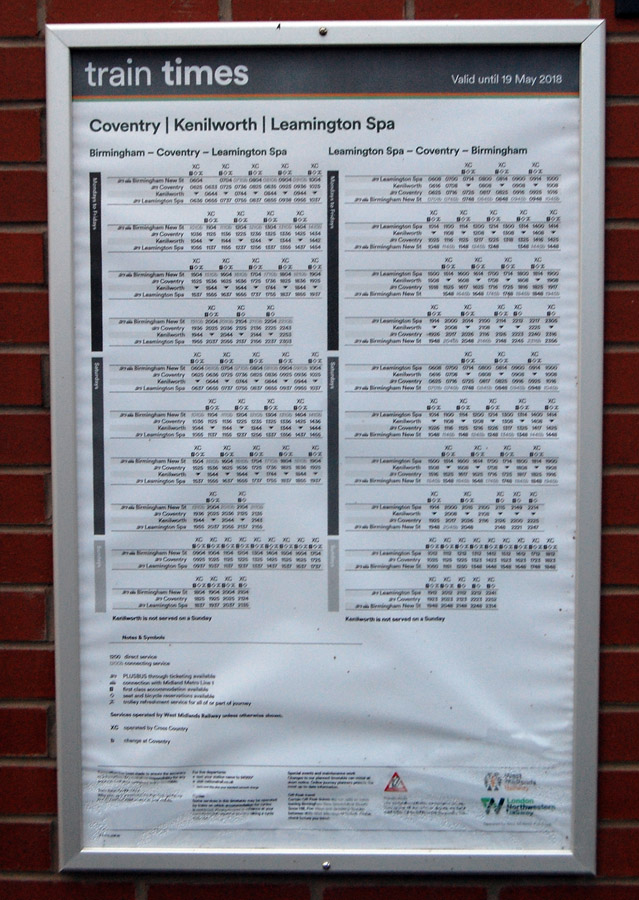 The timetable for the hourly service showed connections to Birmingham.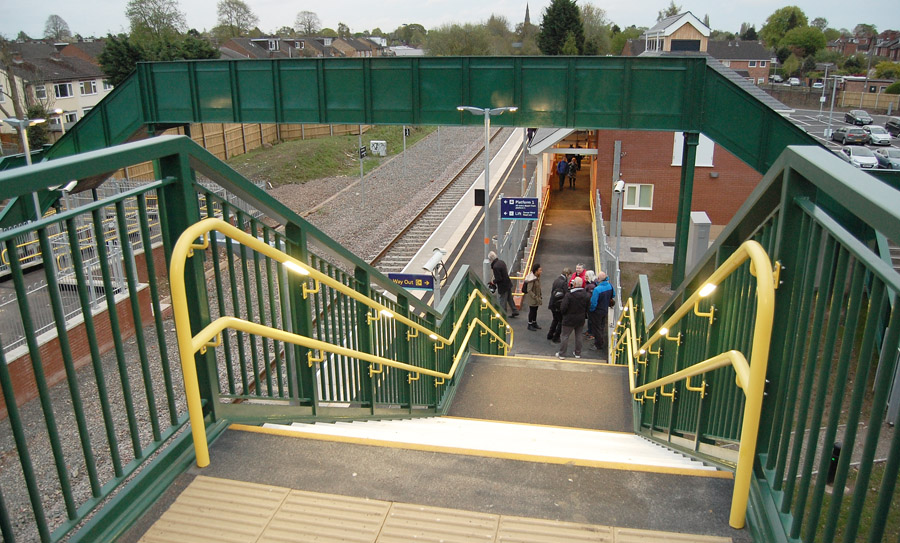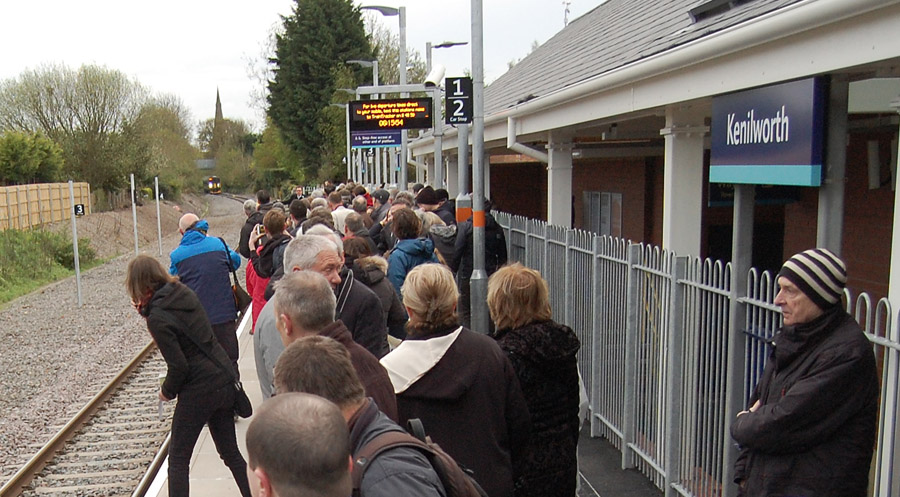 Straining for a glimpse of the first train. Departure time was due to be 6.16; the clock already shows 6.15 and 54 seconds; it's late!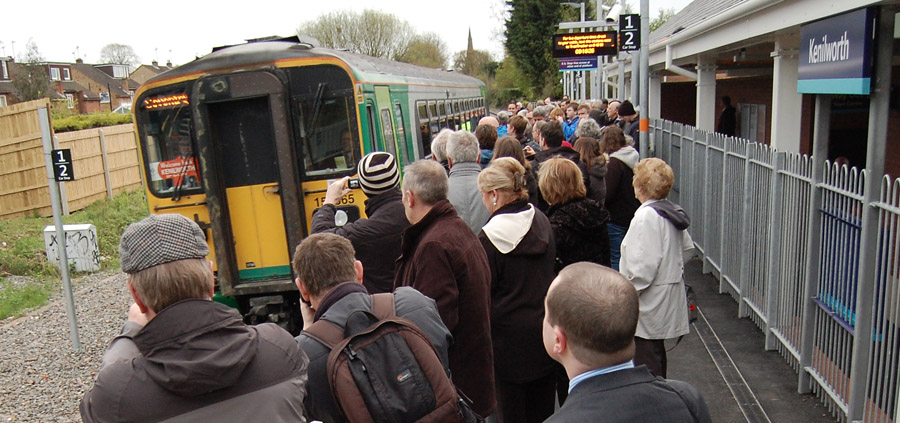 The train is already reasonably full with passengers from Leamington.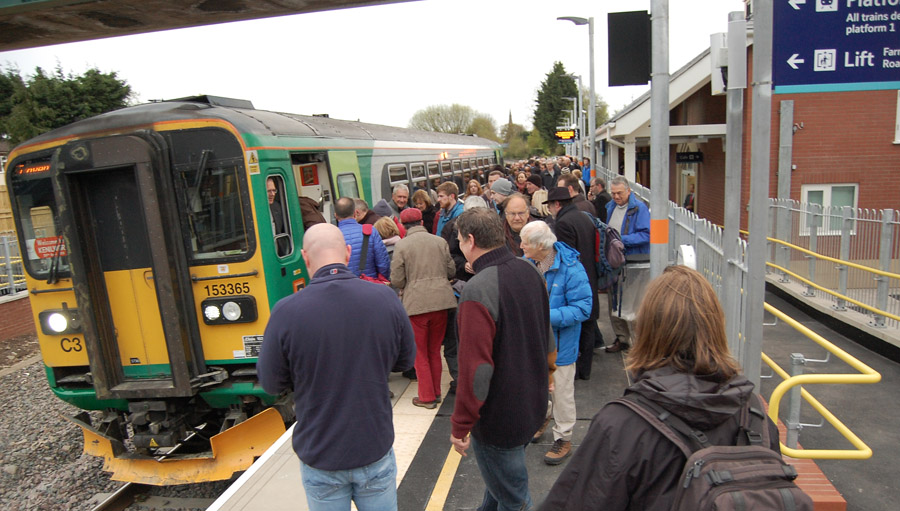 How many are using the service and how many celebrating the occasion?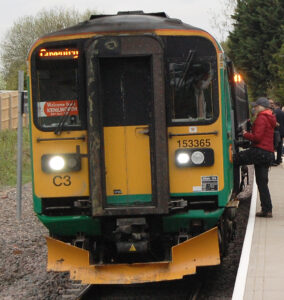 The red headboard states; 'Welcome back Kenilworth, 30th April 2018'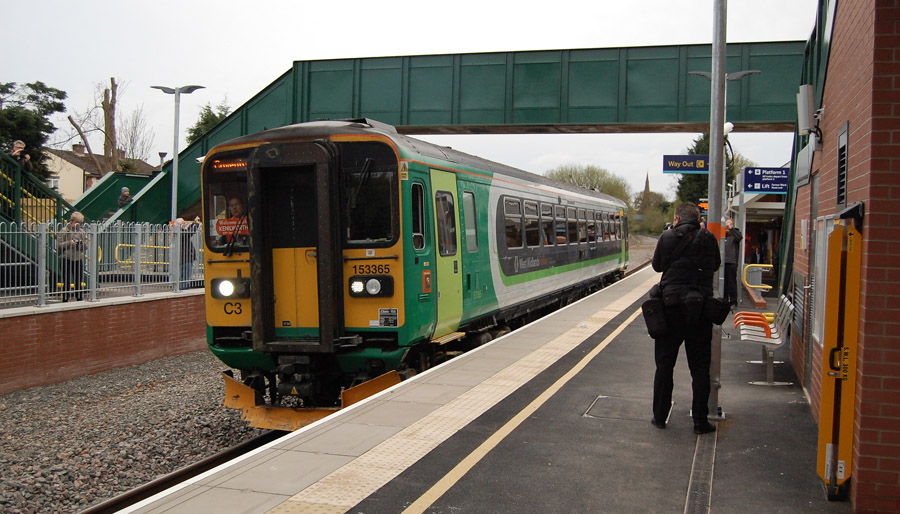 Photographers capture the first departure since 18th January 1965; 53 years 3 months and 12 days ago, and three minutes late.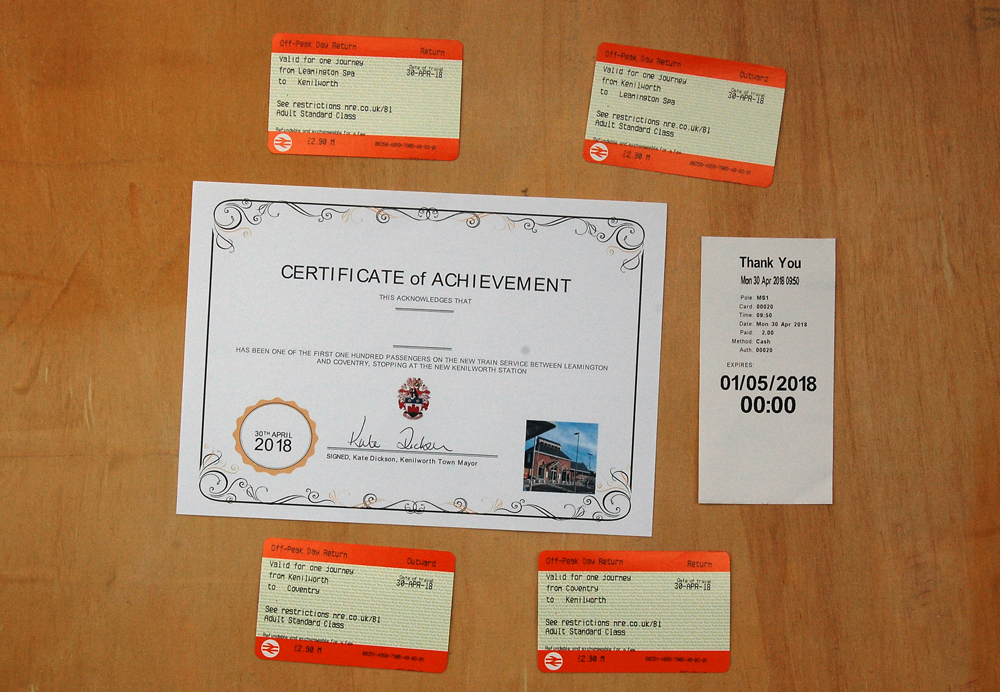 The day's memorabilia; travelling tickets to Coventry and Leamington, a car park ticket and certificate signed by the Mayoress.
Looking around: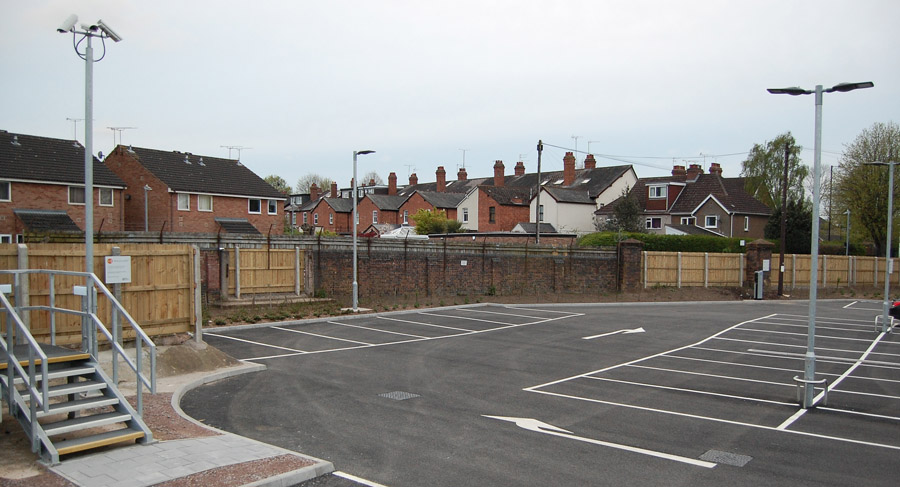 Remnants of days gone by are still around. Above: The main gateway to the goods yard in the 1885 wall can be seen between the two pillars towards the right, the second, later, entrance towards the left.   Below: The back wall of the stables remains as part of the site boundary.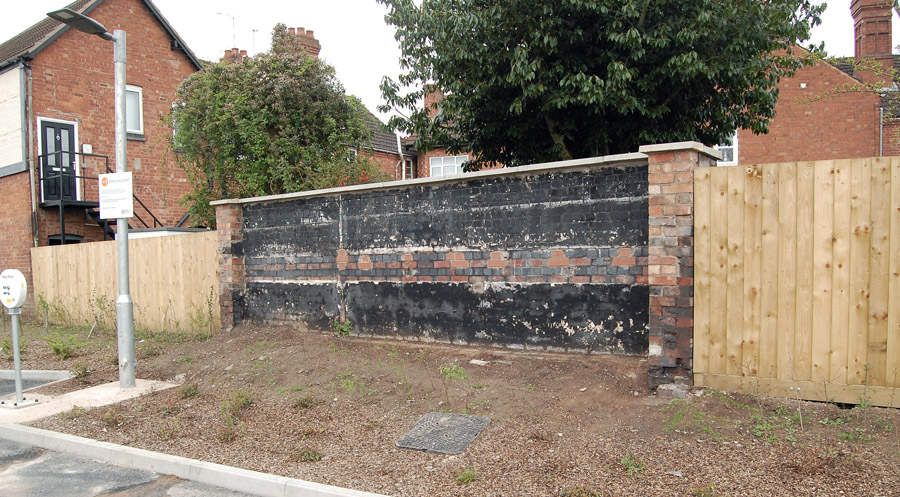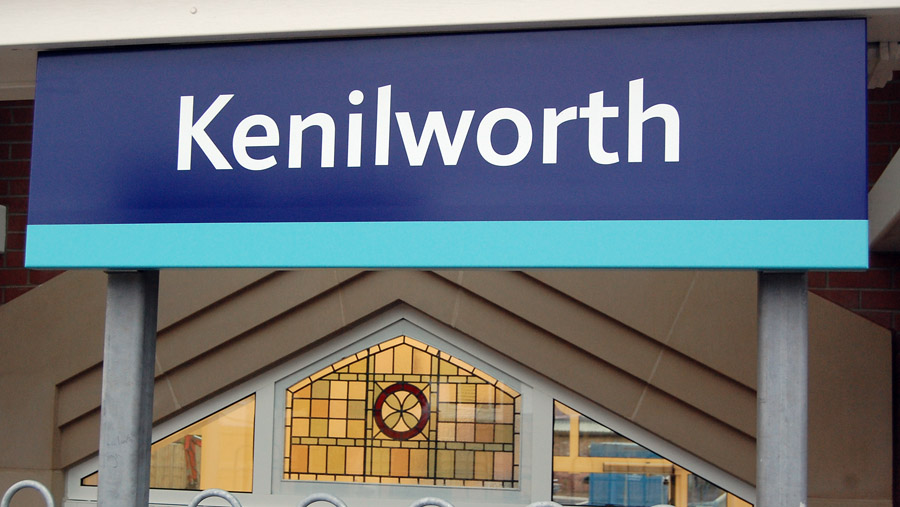 A window from the 1884 station building has been incorporated in the 2018 version, which is of a similar style. It was gifted by Kenilworth Wardens club, how they came to have it has not been discovered.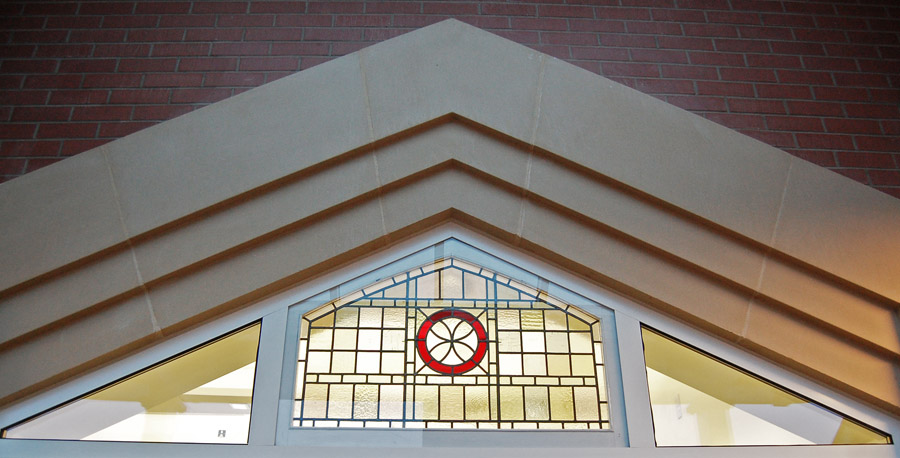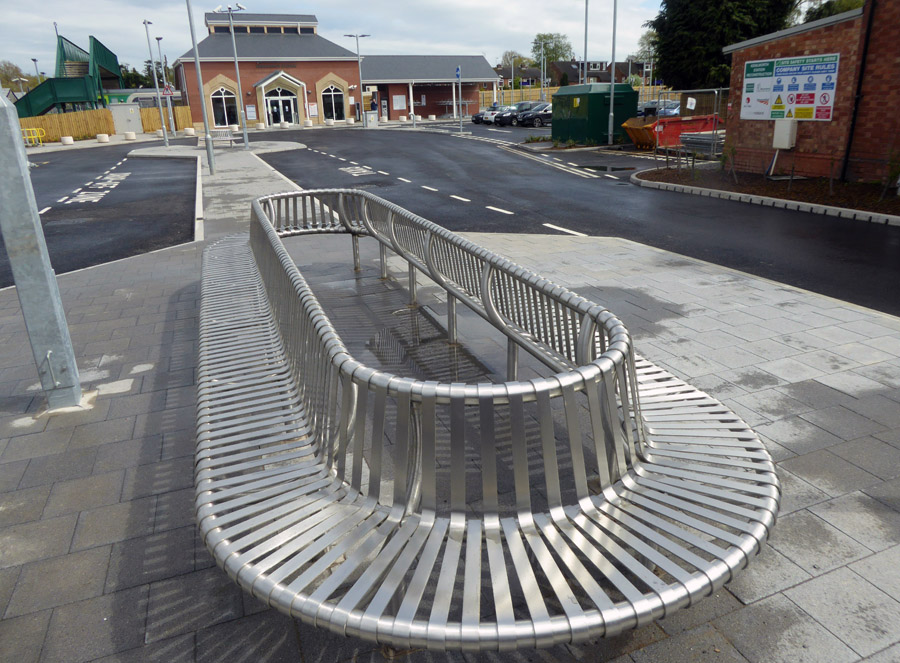 The 'furniture' is of steel. Concrete 'marshmallows' act as seats, and a parking deterrent.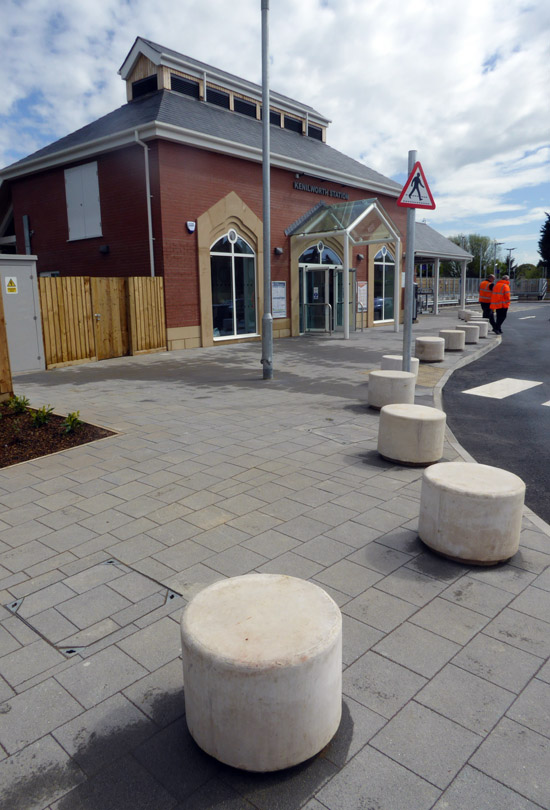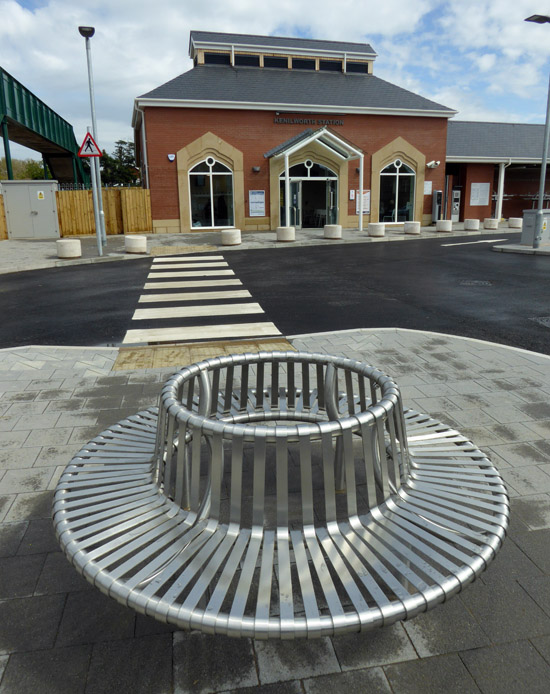 There isn't a shortage of signage: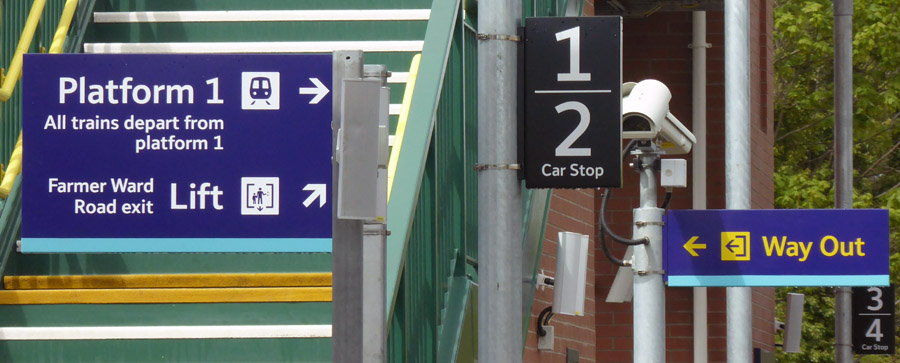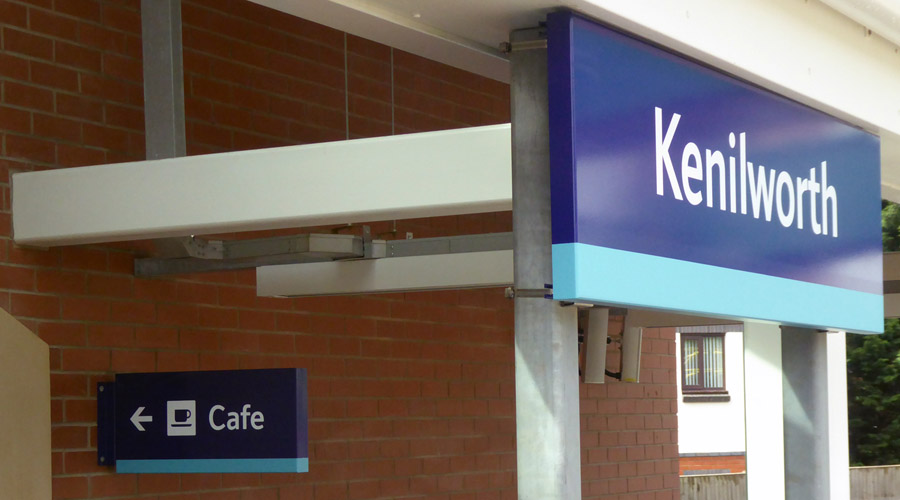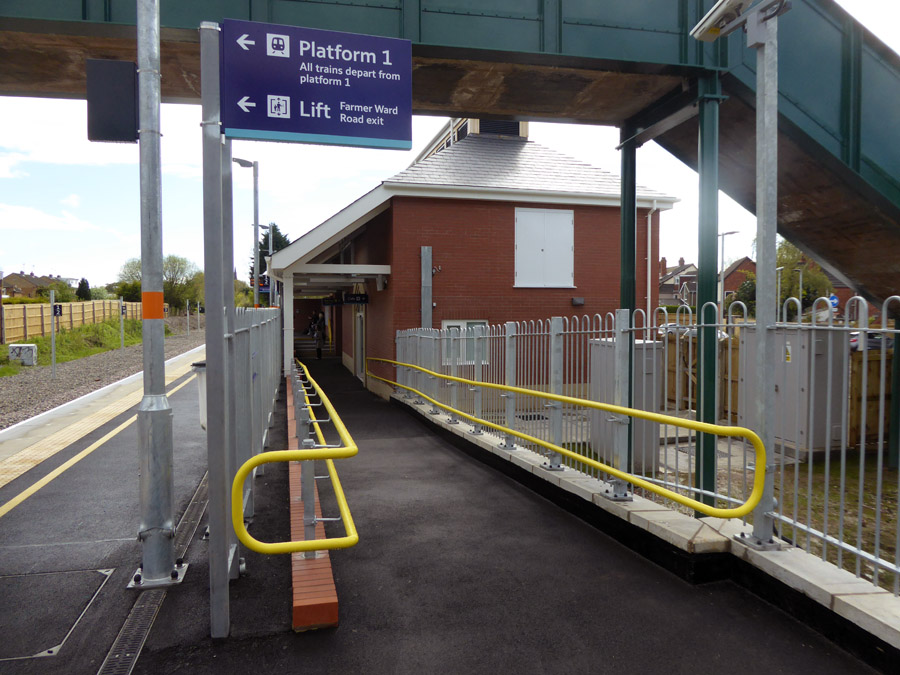 The difficulty caused by the Station Steps footbridge and its right of way straddling the platform (and site of the future Platform 2) is clear. From the Farmer Ward Road approach from the left, it has to be circumnavigated to access the station footbridge, and that in turn has to be by-passed as well to reach the lift!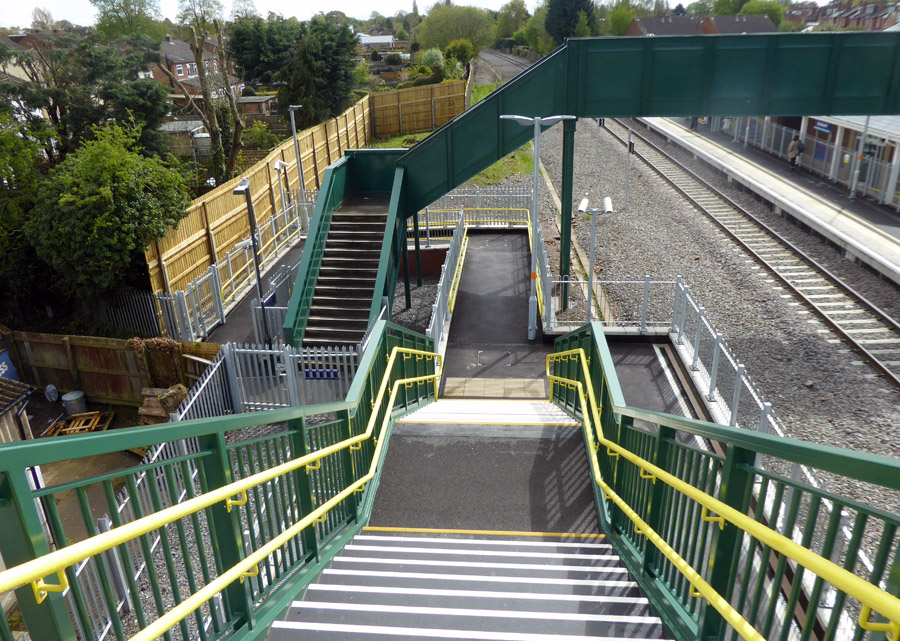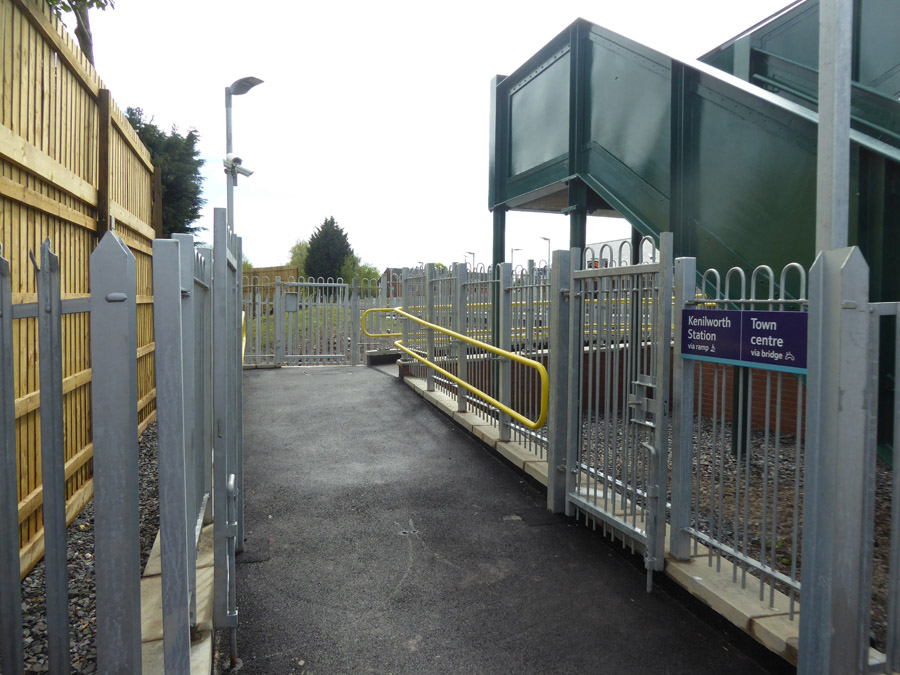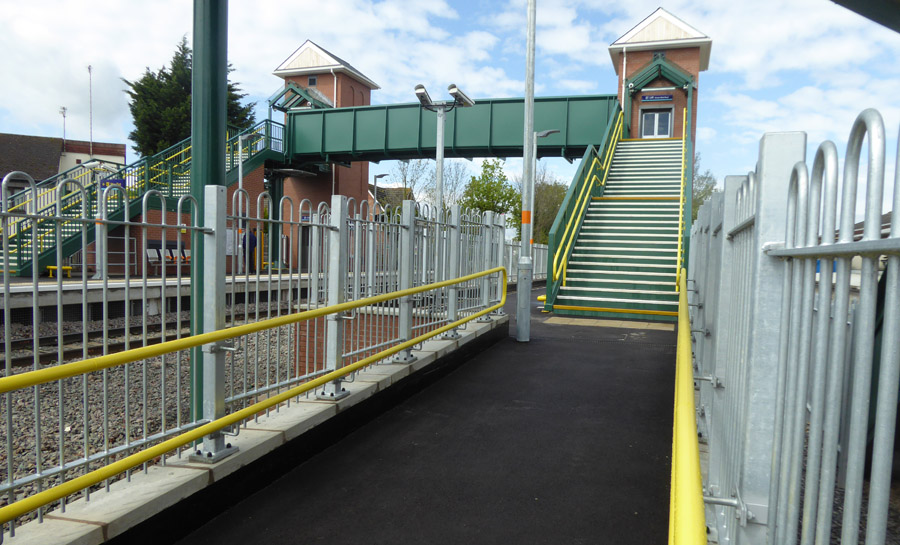 More Railway articles on this website:
Kenilworth's Railway, a brief history of its early years                         Kenilworth's First railway station
Kenilworth's Second Station                                 Kenilworth Second Station Demolished                                        The Railway by Maps
Railway structures from the 1840s and 1880s                            Railway Protestations – 1840 & 2010
Iconic Station Photograph Investigated                                     The end for Historic Bridges?                                 Demolition of historic building