Town Maps
At this time (late 2023) there is much discussion about Kenilworth's expansion. It is of course an ongoing process dating back centuries, but the post war expansion has been extensive and largely in very clear stages which can be summarised loosely as: early post war west of Warwick Road; 1950s – 60s east of Warwick Road and Clinton Lane; 1970s – 80s east of Windy Arbour; and the 2020s south and east of Glasshouse Lane.
Here, I have gathered up street plans taken from Kenilworth Town Guides. They are (mostly) undated and so dates have been estimated using information within the guides, such as population counts, rateable value in a given year, etc. The population of the day is as quoted in the relevant guide.
Please contact me if you can provide additional information about likely publication dates.
c1938 (population 9,000)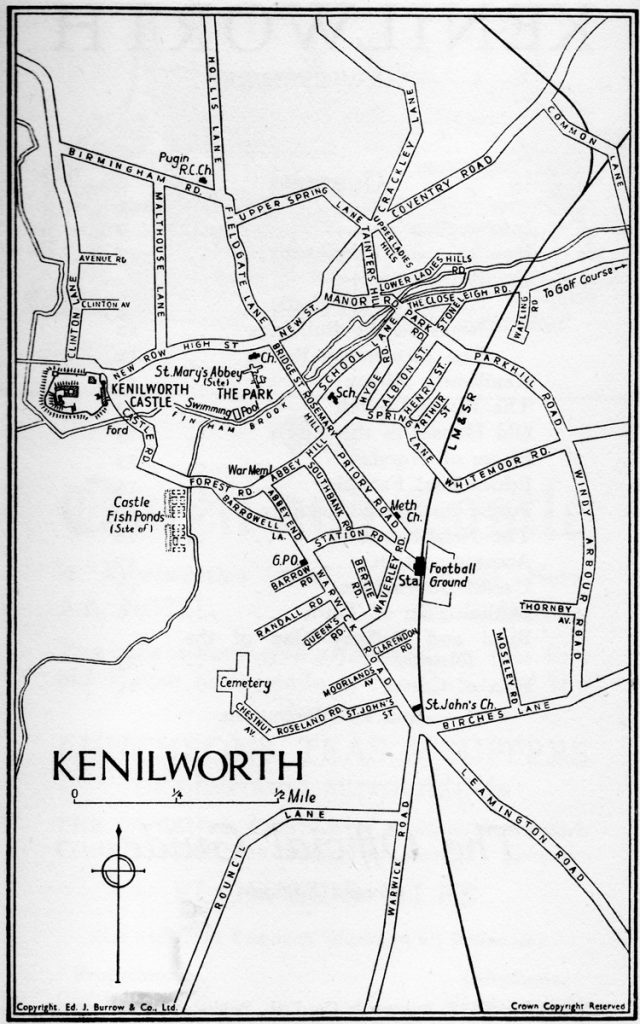 Of interest are the incomplete Henry and Arthur streets, started in 1886 and 1906 respectively (although one or two places are a little out of date, for example Arthur Street was completed to its full length in 1933), and the newly built Roseland Road and Chestnut Avenue; these had been known as Cemetery Way until the post-WW1 building of Council Houses. Note too the cul-de-sacs of Randall, Barrow and Queens, later to provide the access to post WW2 estates. Similarly Thornby Avenue and Moseley Road are short stubs. 
1952 (population 10,500)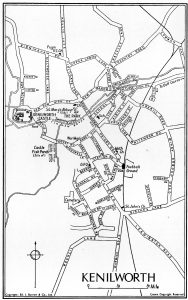 The building of the estates west of Warwick Road, from Barrow Road to Rouncil Lane, is under way with the construction of Mortimer Road and St Nicholas Avenue which were to serve as arteries.
1963 (estimated population 14,250)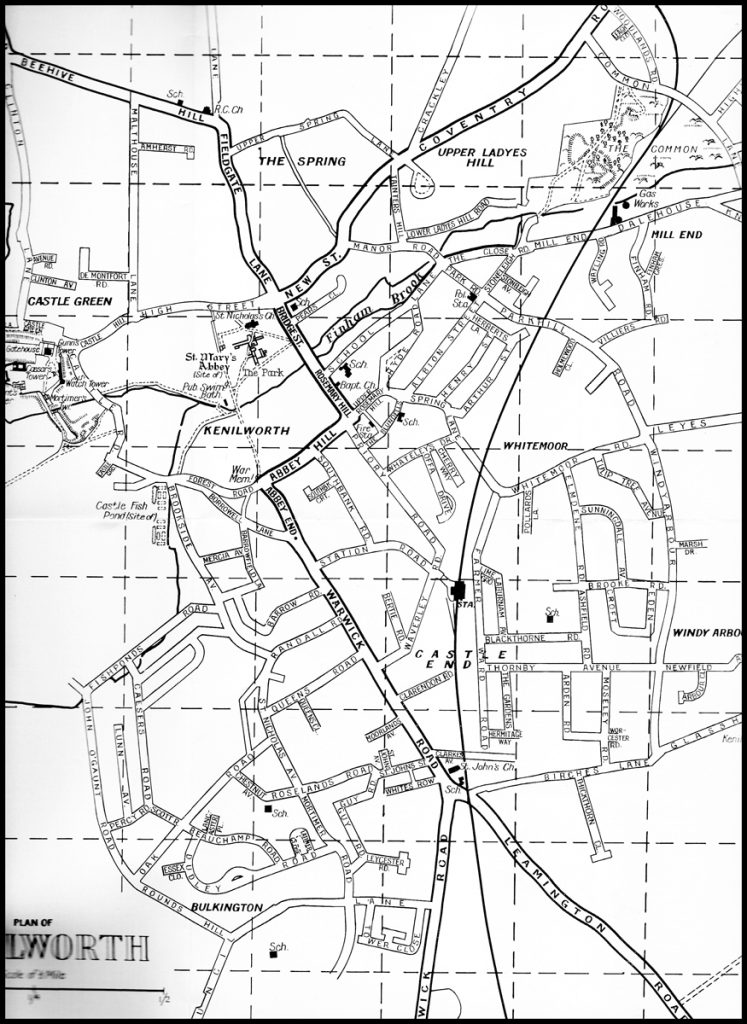 The major developments are east of the railway line across to Windy Arbour, built by Thomas Bates, and that encircled by Rounds Hill, John O'Gaunt Road and Fishponds Road. Note Marsh Drive, marked as going east off Windy Arbour into what became Kenilworth School grounds; a planned road not built? Or a planned access to the school? And why 'Marsh' ?  Note also the full name 'Roselands' is used, normally shortened to Roseland; The Roselands was the name of the fields given up for creating the cemetery.
1965 (population about 15,330)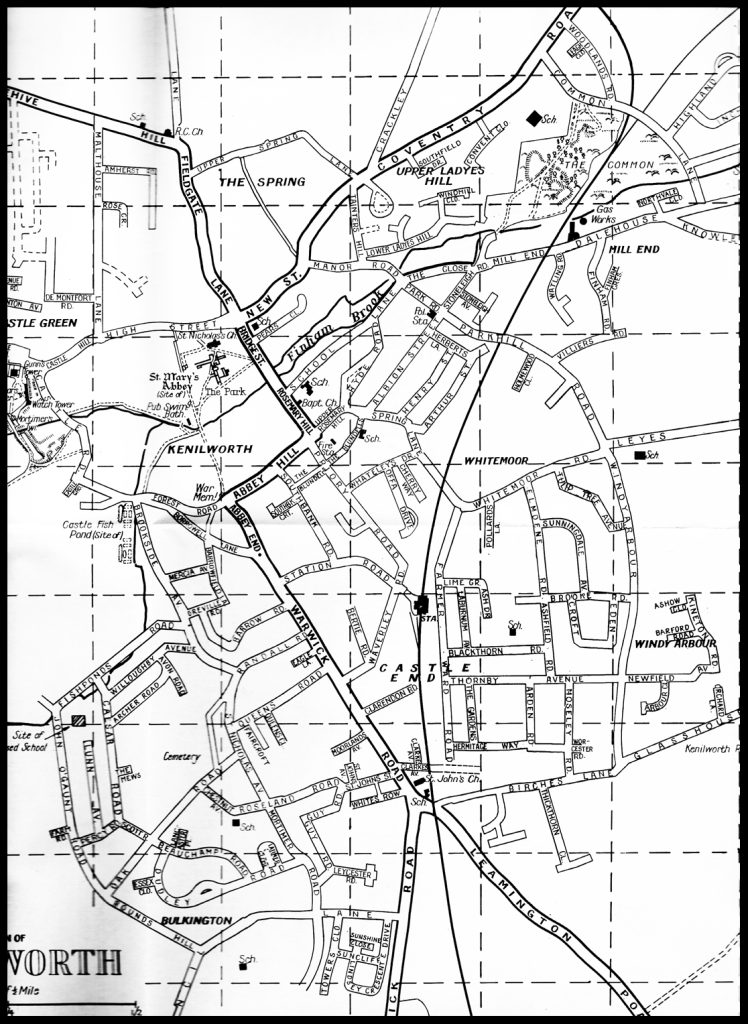 Developments off Beehive Hill and Clinton Lane are underway; Ash Drive and Hermitage Way are amongst the newly completed roads east of Farmer Ward Road, and several roads have been built in the Upper Ladye's Hills area.
c1971 (population estimated Summer 1970, 21,000)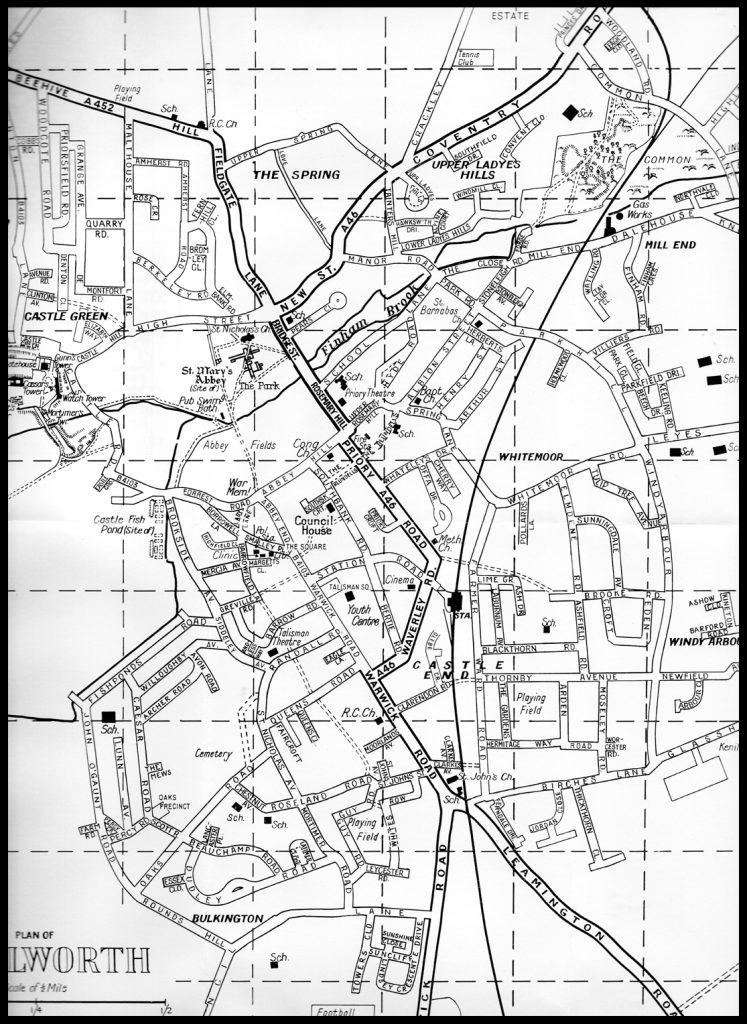 The developments east of Clinton Lane are nearing completion. Developments off Leyes Lane are in their infancy.
c1973 (population 20,098 at 1971 census)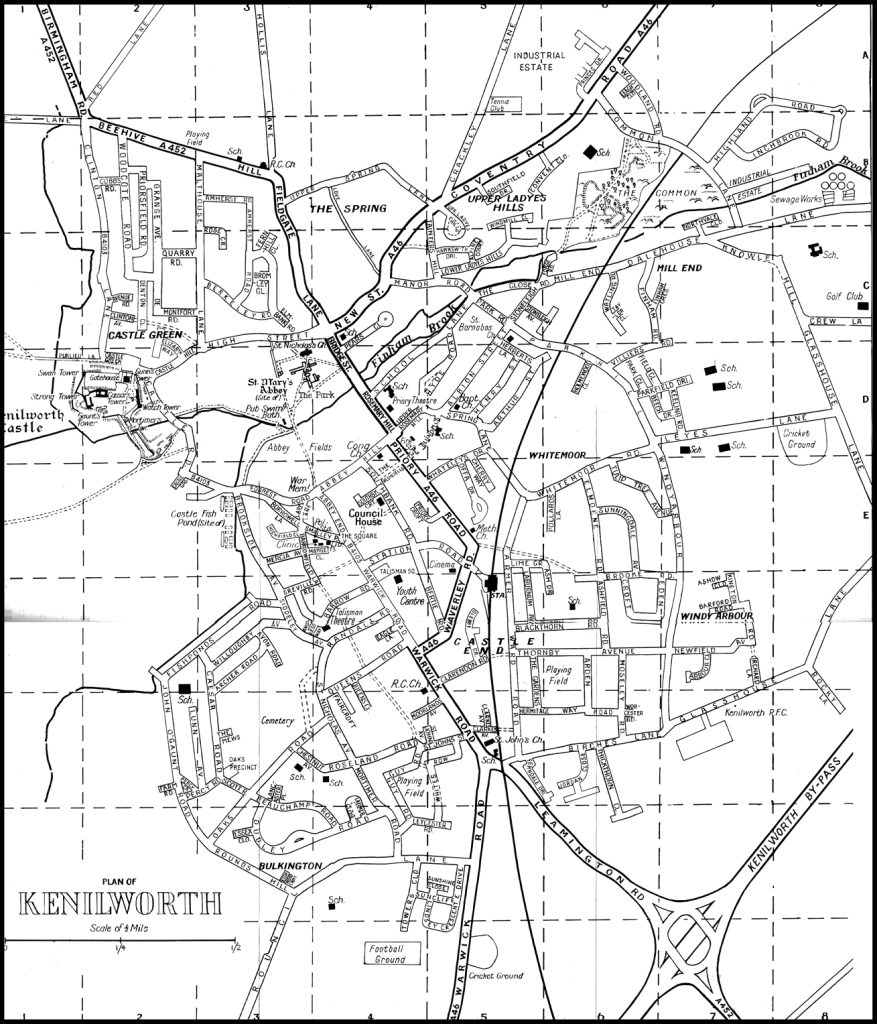 The most obvious addition to this map is the Kenilworth By-pass, a much needed new road to take the traffic between Warwick / Leamington and Coventry out of Kenilworth town centre; a similar scheme to take traffic from the Birmingham direction is unlikely to happen due to it needing to pass through the castle grounds.
Post-war development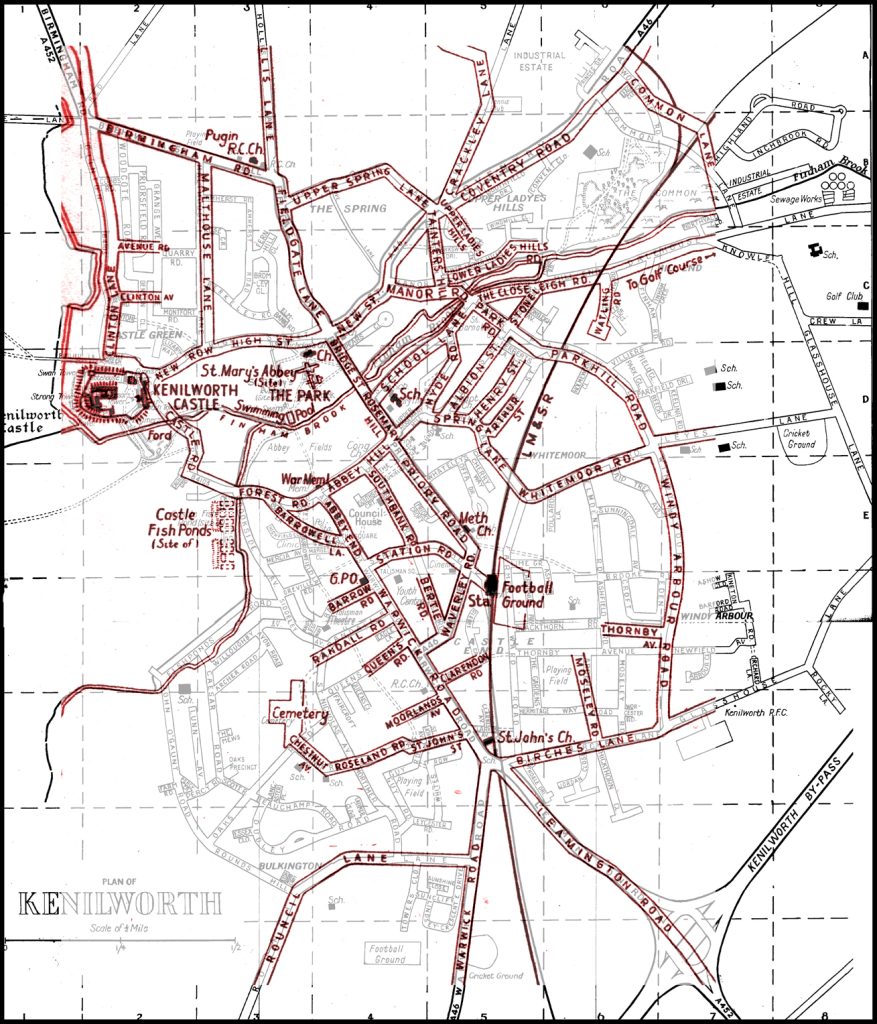 A full size pdf of the above map:   Post war development
In red, the 1938 map is over-laid upon the 1975 map. As there were no road developments during the war, the 1938 map is effectively that for 1946 also and so this shows the roads created in a thirty year span. The maps are drawn to a slightly different scale and style so do not exactly line up in places.
It clearly shows the major developments west of Warwick Road, between Clinton Lane and Fieldgate Lane,  and east of the railway line.
Early 1980s (population approximately 20,000)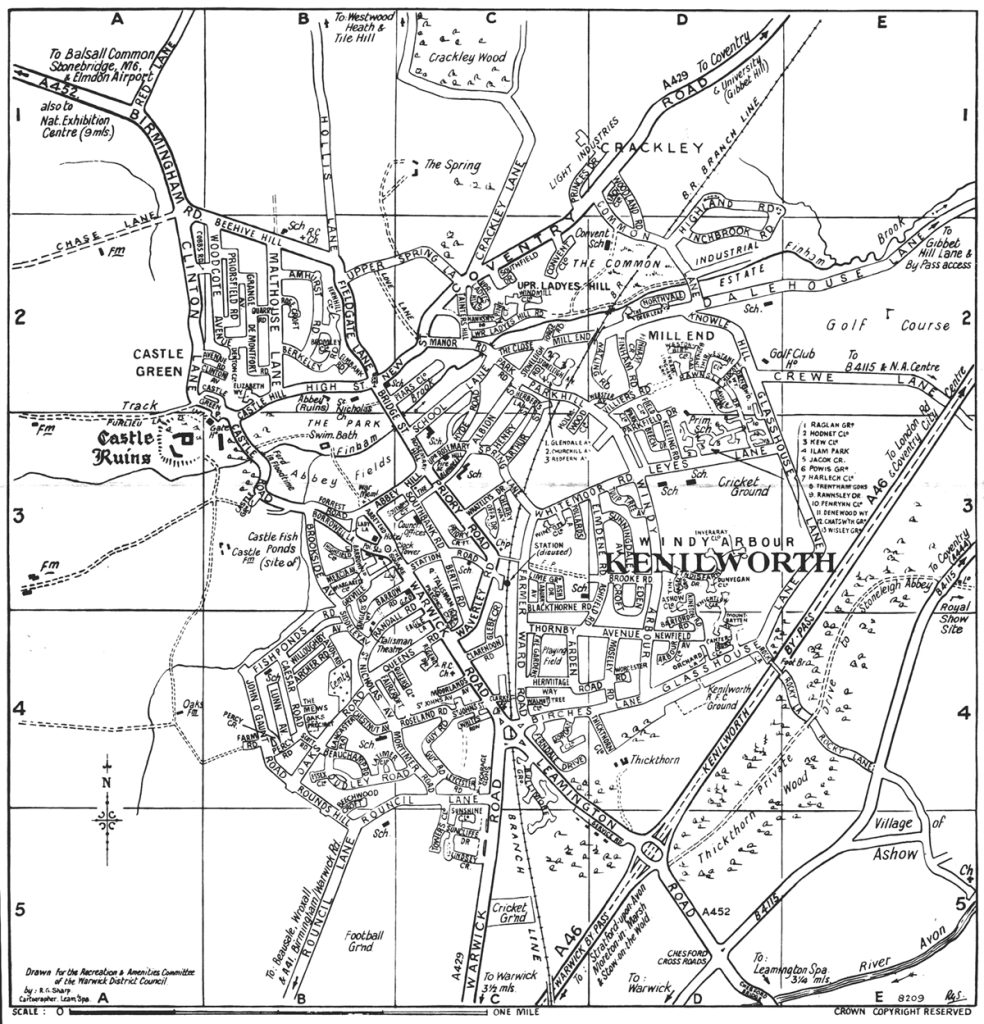 The development north of Leyes Lane is well under way
Late 1980s (population approximately 23,000)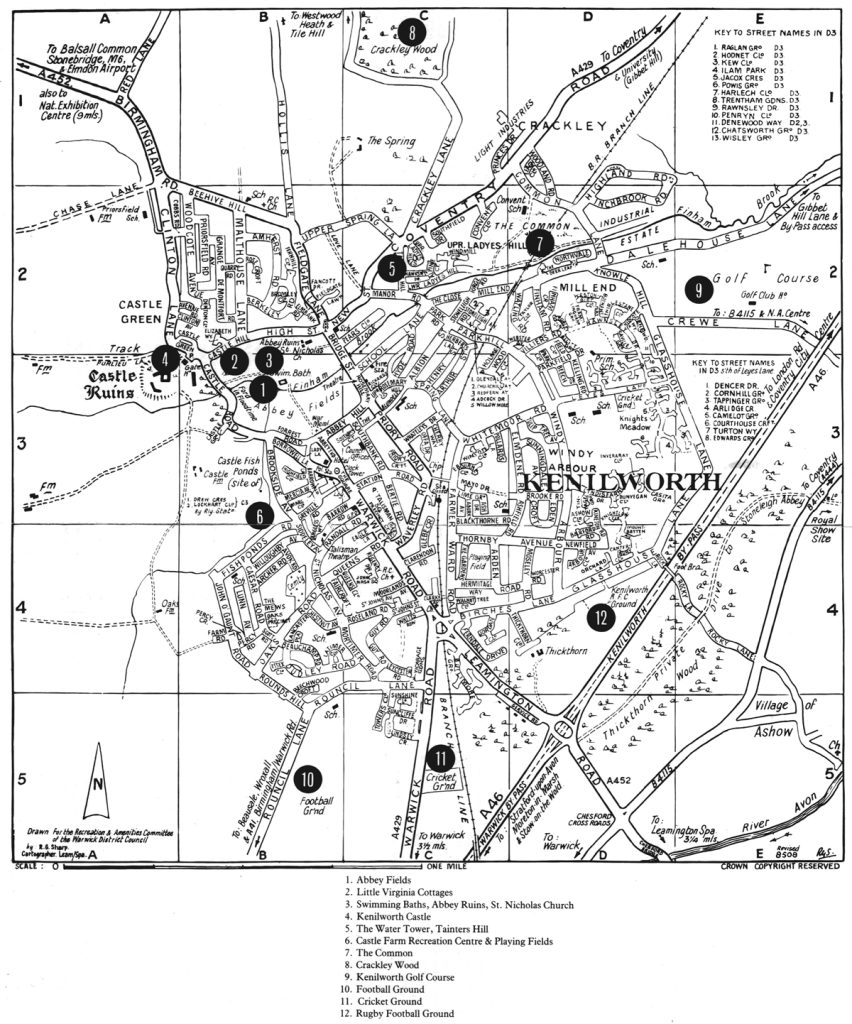 This town guide is dated by the inclusion of a photograph of the new indoor swimming pool (1986) but the Wardens club has yet to move (1989).  Developments include Knights Meadow of 1984-5. Places of interest are included for the first time.
1945 – 1990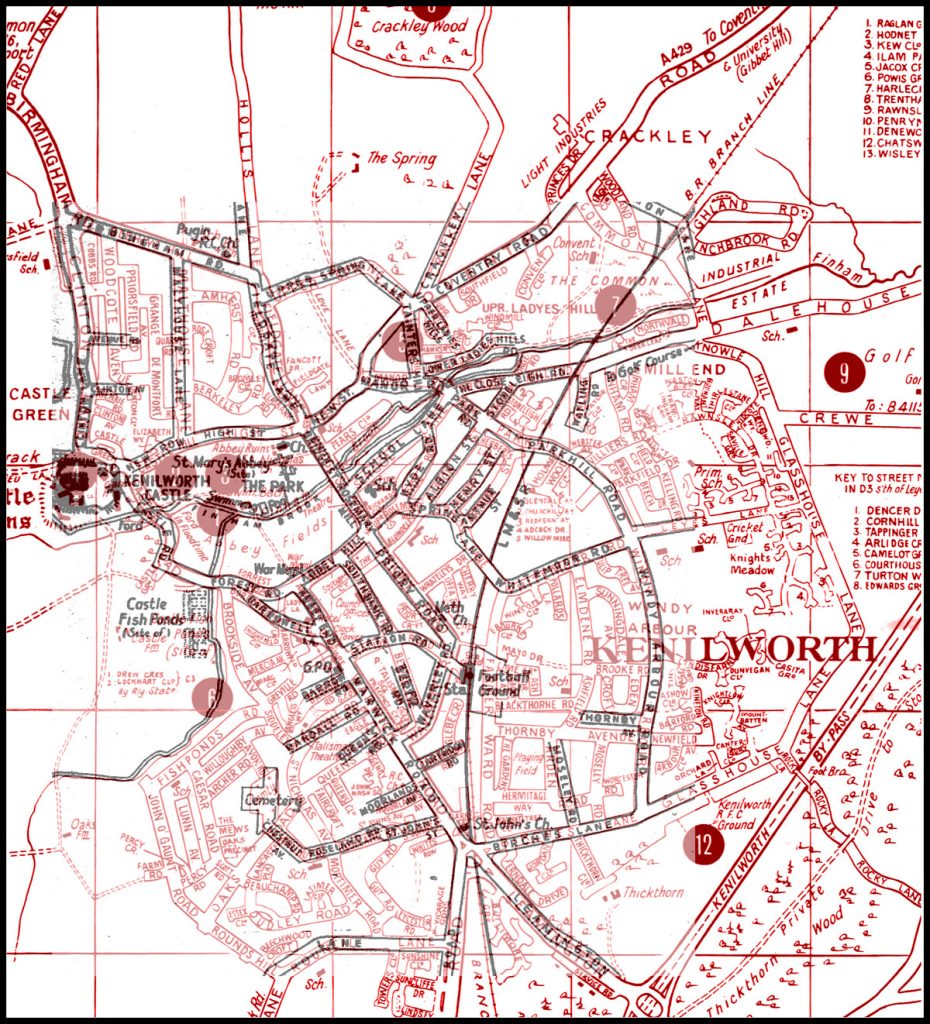 Again the maps do not precisely overlay but the red 1990 map shows just how much the town has expanded, particularly eastwards, since the war. This is soon to continue………..
2018
Since the expansion in the 1980s, for about 30 years there was little development until the adoption of the Kenilworth Neighbourhood Plan  on 16th November 2018, which in a public referendum had seen 94 per cent of votes cast in favour . This includes major developments east of Glasshouse Lane, and infill on two school sites.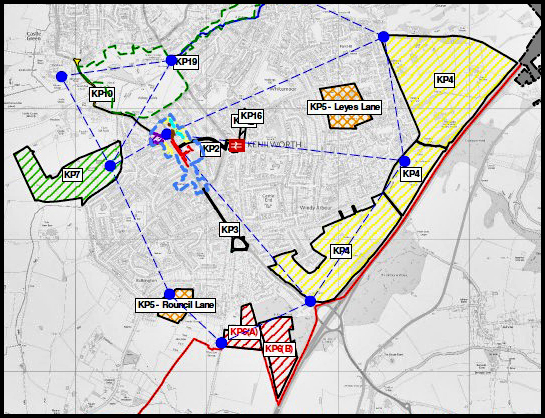 Full size plan with key:  Kenilworth Neighbourhood Plan map
For details of the origins and dates of naming all of Kenilworth's roads, see  A Portrait  of  Kenilworth  in  Street-Names