2023 excavations summary
This link is to the project update issued to the public in September 2023, prior to a public meeting held at St Nicholas church, outlining the effect the discovery of archaeology had on the project:   Project Report, September 2023  
This link is to the 8 page document detailing the excavation to date. It was given free (while stocks lasted) to the over a thousand visitors to the site on the open day on 3rd October 2023:  Archaeology report   
This is the map of the archaeology taken from the summary leaflet:    PDF of archaeology map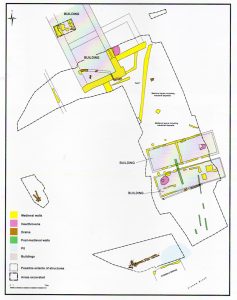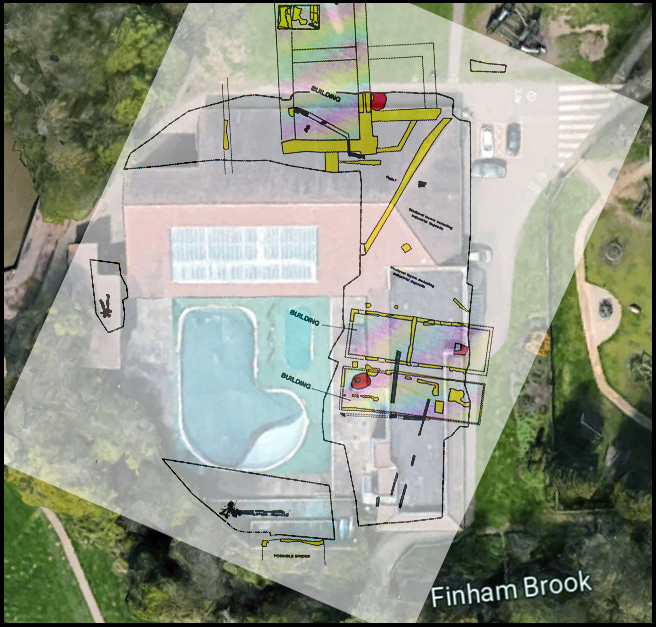 Here, above, the archaeology is postioned in relation to the swimming pool complex as it was shortly before demolition.
Below, this plan shows the newly discovered archaeology in relation to the rest of the excavated Abbey complex.
There were major excavations undertaken in 1922 – 1922 excavations – and the revealed archaeology was recorded on the 1925 OS map; here, that archaeology is highlighted in red as are the above ground remains of the gatehouse and barn: the new finds too are added in red. Note the original swimming pool of 1896 is still in use.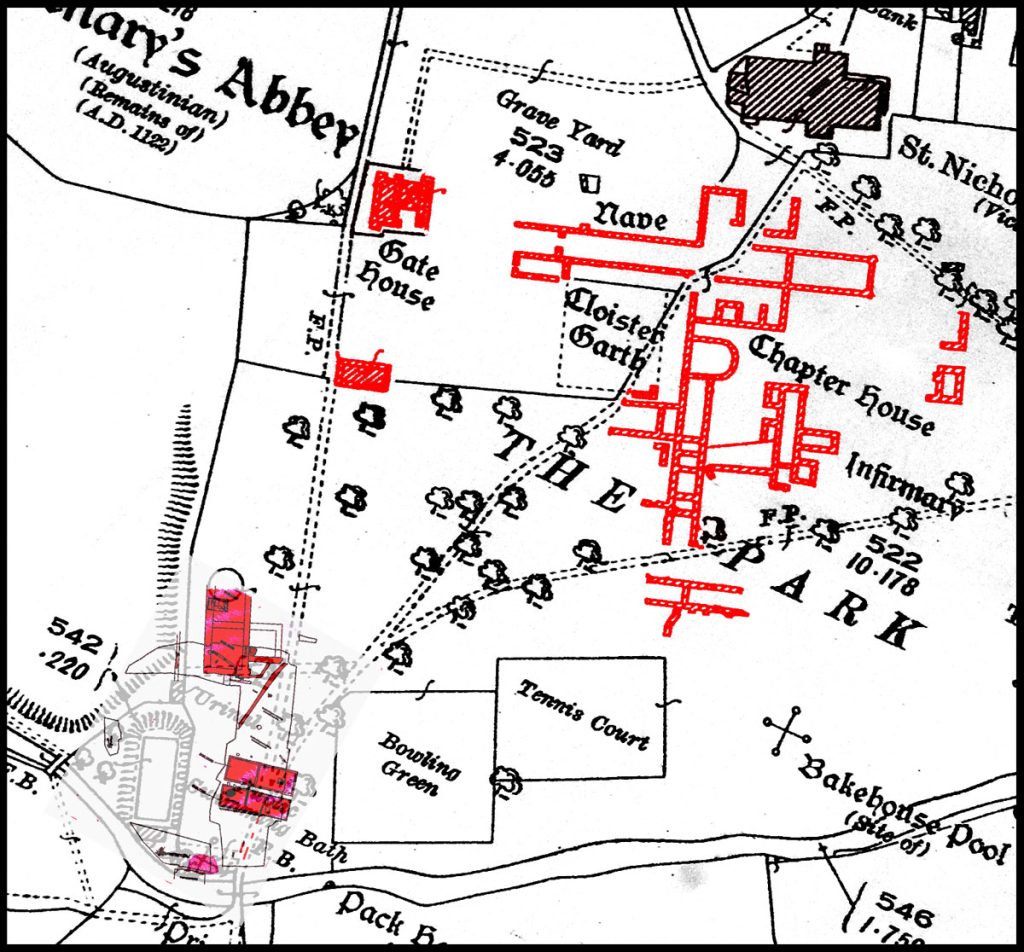 An enlarged view of the pool area: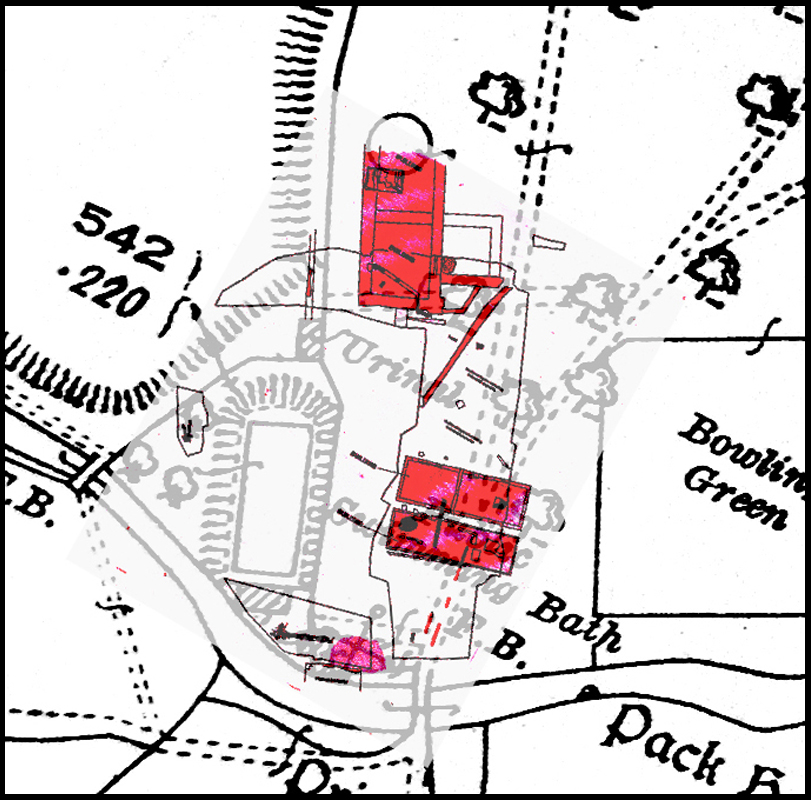 The archaeology  in relation to the (current) plan for the new swimming complex: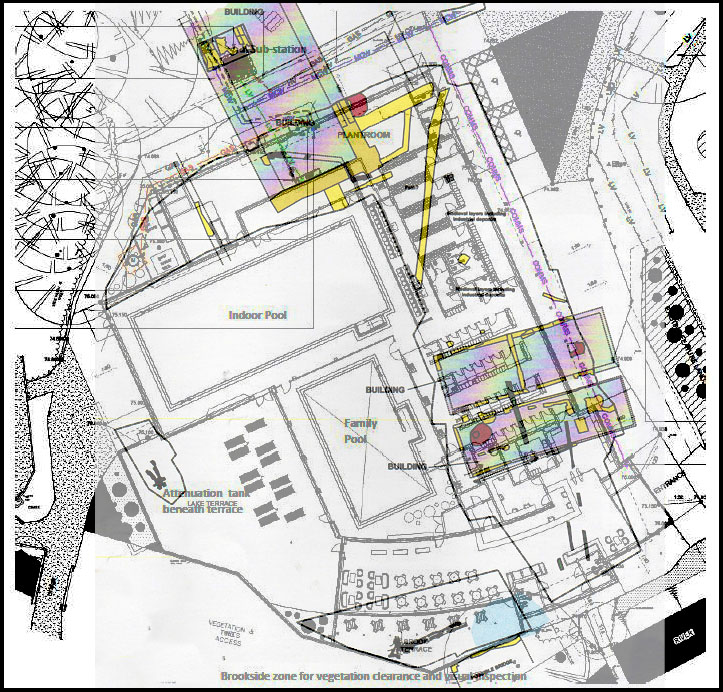 It is interesting to link this archaeology with that uncovered by Severn Trent; please see  1989 and 1997 below.
Link to archaeology home page:   Abbey Fields Archaeology
Further Abbey Fields archaeology pages:
1840                   Churchyard extension
1888                  Churchyard extension
1922                  The Abbey uncovered
1989                  Severn-Trent pipe laying
1997                   Geo-phys survey
2005                   Barn Dig, KHAS 2005/6
2013                  Redevelopment of the former bowling green into a new children's play area
2013 (a)                  Conversion of the 'temporary' car park into a hard-surface pay and display car park
2014                 Gatehouse from KH 2015
2018                  Reconstruction and widening of the 'Cow Path'
2022 (a)            Swimming pool, brook end
2022(b)           Children's play area
2023                 Swimming pool, former cafe area
2023 b          The 1896 swimming pool