The problems with the south bank….
A path following the south bank of Finham Brook from Rosemary Hill to the iron bridge has been put forward on a number of occasions. Sustrans found many problems with this (which it must be noted, included one which imply isn't true) in their proposals:  Abbey Fields Cycle Path Feasibility Study                The Problem with Sustrans…….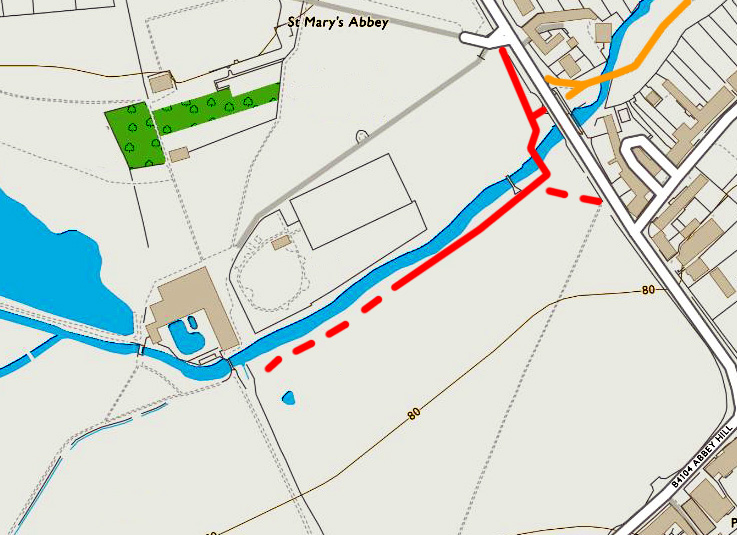 My thoughts are that there are indeed difficulties with this route:
1)         Connectivity with the existing cycle path would need to be made.
            The options are:
           a) As I suggested (which in turn is similar to Sustrans) with a path from the car park entrance and / or under            Townpool Bridge, but with the path then having to cross the brook somewhere near Townpool Bridge. Or…..
          b) Expecting cyclists to travel up Bridge Street / Rosemary Hill to enter the park at the bottom end of the diagonal path. Cyclists would obviously be tempted instead to use the main path to the swimming pool.
2)         Where would the cycle park be? It would be well away and hidden from the central area but that would be a problem; cyclists would be tempted to wheel their machines into the central area instead of locking them out of sight.
3)         Sustrans also highlighted problems with the topography, and trees which would need to be given a wide birth.
4)         There is also a problem of (probable) ancient earthworks to be negotiated, including The Dip
This route does however have merit in that it avoids the congested area outside the swimming pool and the Iron Bridge, and has no interaction with pedestrian paths.
In these articles I take a look at other proposed schemes and the involvement of some 'Stakeholders':
The Problems with Warwick District Council…..
The Problem with Kenilworth Town Council…..
The Problem with Friends of the Abbey Fields…..
The Problem with English Heritage……
Return to  Abbey Fields Cycle Path Home page